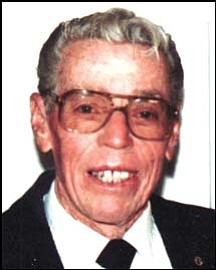 Originally Published: September 21, 2008 6 a.m.
Lee was born in Clyde, Texas, on July 17, 1923. He left his earthly home and began his eternal life in Jesus on Aug. 29, 2008, from Kingman.
Lee served in World War II as a paratrooper, and his numerous jumps included the D-Day Invasion. During the Korean War, Lee served in Germany in the military band. After leaving the military, Lee worked in various dance bands. In order to better serve his family's needs, he left the music industry and became a police officer in Chino, Calif. In keeping with his talents in law enforcement, he then served in the San Bernardino County Sheriff's Department, after which he became a private investigator until retiring.
Lee is survived by his loving wife, Jean; his two children, Donna Schalansky and Bill Palmer; four grandchildren; his two brothers, Wilbur and Charles Palmer; and one sister, Helen Hutchinson. Other survivors include numerous stepchildren, step-grandchildren, and even step-great-grandchildren.
Lee's tender heart and loving attitude toward all those who knew him gained him many friends wherever he went and we will all miss his humor and smile.
More like this story