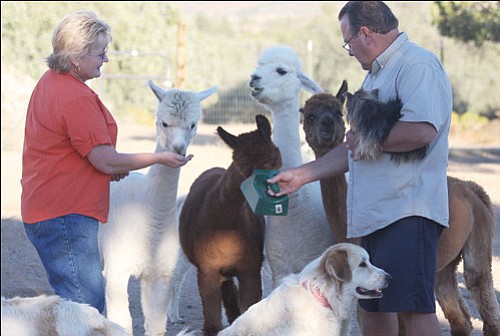 Originally Published: September 22, 2008 6 a.m.
Joan and Andy Coster of Amor Del Alpaca Ranch east of Kingman visit with some of their alpacas and dogs (top photo).
Bottom photo, Joan holds a six-day-old alpaca.
On Saturday and Sunday, this and another local alpaca farm will participate in the 2nd Annual "National Alpaca Farm Days." The public is invited to come to the farms and meet the alpacas, relatives of the llama, with soft coats that can be woven into clothing and other materials, of which some items will be available for sale.
Amor Del Alpaca Ranch is at 11400 E. Deer Crossing Road. The phone number is (928) 692-1922. The ranch will be open from 10 a.m. to 4 p.m.
To get there
To get there, go east from Kingman on I-40 to Exit 71 (the Highway 93 exit). Instead of heading south toward Phoenix, turn left (north), cross the highway and then turn right at the top of the crossover.
Once on the dirt road, go one-half mile, turn left at the signs and go half a mile to the gate. Turn left at the gate into the driveway.
Amor Del Alpaca has 23 alpacas, a baby alpaca, called a cria, about a week old, and is expecting another newborn any day. The other alpaca farm is Alpacas of the Southwest at 1108 McCarrell.
From Kingman
From Kingman, head 13 miles east on I-40 to the Blake Ranch Road exit. Turn right (south) and take the first left turn to go along the frontage road. Go about a mile and a half and turn right at McCarrell. The ranch is on the left.
Call Ron and Anna Nyberg at (702) 338-7806 for more information. Their open house will be from 10:30 a.m. to 4 p.m. each day. They will have arts and crafts for kids. Both farms look forward to visitors this weekend.