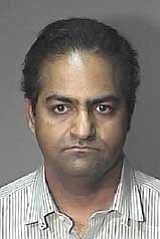 Originally Published: September 22, 2008 6 a.m.
KINGMAN - Dr. Ilangovan Govindarajan's attorneys, Clark Derrick and Lee Novak, might file a petition for special action with the Arizona Court of Appeals.
The attorneys filed a motion to remand the case back to a grand jury in July, arguing that the doctor was not given a fair and impartial grand jury.
Derrick and Novak said the County Attorney's Office should have waited and presented all the evidence in one grand jury hearing, instead of two. They also argued that the use of initials instead of the accusers' names in the indictment prevented the grand jury from determining whether the accusers had some sort of bias against Govindarajan.
They said information presented by the CAO about whether Govindarajan or any of his alleged victims were married or had boyfriends was prejudicial. And they argued that the CAO interfered with the grand jury's right when the deputy county attorney stopped a witness from answering a juror's question about Kingman Regional Medical Center's policy for reporting abuse.
Commissioner Lee Jantzen denied the motion in August.
Govandarajan's attorneys told the court Friday afternoon that they plan to file the petition and requested a stay of the case until the appeals court responded. Jantzen denied the attorney's request for a stay and set a trial date of April 7. The next hearing in the case is scheduled for 2:30 p.m. on Oct. 24.