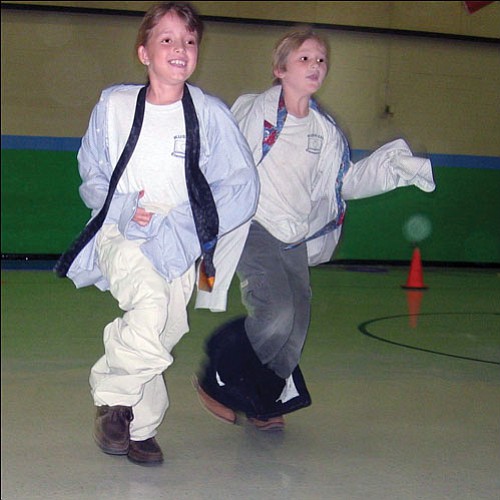 Originally Published: September 22, 2008 6 a.m.
KINGMAN - With Michael Phelps on his promotional tour, the third-graders at Palo Christi had a clear shot at the gold.
For the third straight year, Palo Christi hosted the school's own olympics in the gym.
With stations ranging from basketball shots to a race in Principal Steve Hite's clothes, third-grade students engaged in physical activities on Friday.
"Pretty cool," Wyatt Gillespie said.
The games started with the addition of third-grade teacher Patti Nelson. The school had run similar activities in the 1980s to 1990s.
Like the actual Olympics, Palo Christi adds and subtracts activities each year. Two years ago, the school introduced the run in Hite's clothes.
"It's pretty funny," Gillespie said.
In preparation for the day, Nelson and fellow third-grade teacher Lisa Sipe show students a 10-minute prepared video from the 2002 Olympics.
"They look forward to this," Nelson said.
The activities coincide with the teamwork section of their textbook.
The day coincides with the shorter days that accompany the annual parent-teacher conferences. Teachers also use the Olympics to motivate the students in the classroom.
"It's an incentive that we use for them," Nelson said. "In order to compete, they have to be on their best behavior."