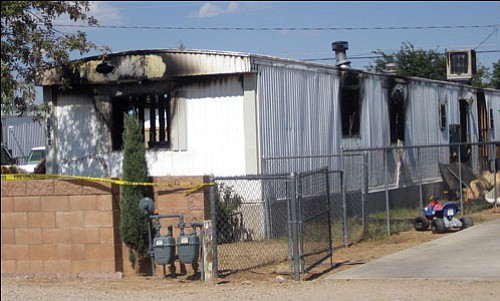 Originally Published: September 30, 2008 6 a.m.
KINGMAN - The Mohave County Sheriff's Office is investigating a possible homicide/arson case.
Crews from the Northern Arizona Consolidated Fire District No. 1 were called out Saturday morning to a structure fire in the 3000 block of Packard and Bank streets. The department responded with four engine companies, a ladder company, a water tender, a paramedic squad, a battalion chief and 18 personnel.
Firefighters encountered heavy fire in a single wide mobile home and were advised that person might still be inside the home.
They later found a man and a dog, both deceased in the home.
The cause of the fire was determined to be suspicious, and MCSO detectives were called to investigate. According to MCSO, the victim has not yet been identified.
Detectives spoke with several neighbors who reported hearing a loud noise before the fire. Some witnesses reported seeing a vehicle leaving the area at a high rate of speed.
An attempt to locate was issued for Shawn Avery Guerrero, 26, of Kingman on Saturday. He is wanted by MCSO for questioning.
Tempe Police officers made contact with Guerrero on Sunday. He was booked into the Maricopa County Jail on an outstanding misdemeanor warrant out of Mohave County.
Firefighters spent the rest of the day assisting in the investigation and extinguishing hot spots. The damage to the home is estimated at $30,000.