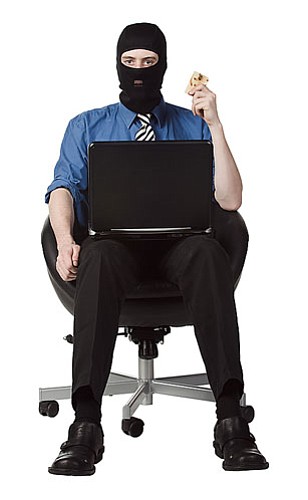 Originally Published: April 1, 2009 6 a.m.
KINGMAN - As technology continues to advance, so does crime.
The Internet Crime Complaint Center (IC3) reported a 33-percent increase in reported Internet crime complaints, and a $26 million increase in the amount of money lost due to reported Internet crime in 2008.
The average individual loss due to reported Internet crime in 2008 was $931. IC3 released the information in its annual Internet crime report on Monday.
IC3 is a partnership between the FBI and the National White Collar Crime Center. The IC3 gives the victims of cybercrime a convenient and easy-to-use reporting mechanism that alerts authorities of suspected criminal or civil violations. For law enforcement and regulatory agencies at the federal, state, local and international level, IC3 provides a central referral mechanism for complaints involving Internet-related crimes.
FBI Cyber Division Assistant Director Shawn Henry said, "This report illustrates that sophisticated computer fraud schemes continue to flourish as financial data migrates to the Internet. It also underscores the need for continued vigilance on the part of law enforcement, businesses, and the home computer user to be aware of these schemes and employ sound security procedures."
According to IC3, Arizona ranked 10th in the top ten states with 2.6 percent of reported Internet scammers and seventh in the number of reported Internet scams per capita, with 102 reports for every 100,000 people.
California ranked No. 1 with the largest number, 15.8 percent, of reported Internet scammers, and Alaska ranked No. 1 with the largest number of cases per capita, with 338 cases per 100,000 people.
The Kingman Police Department and Mohave County Sheriff's Office do not separate Internet fraud reports from other fraud reports. So, it is unknown what kind of impact Internet fraud has locally.
"About one to two reports of Internet fraud come across my desk every week," said MCSO Public Information Officer Trish Carter. She suspected MCSO detectives receive more than that every week.
KPD Sgt. Rusty Cooper estimated the department gets hundreds if not thousands of reports every year.
The types of Internet crime reported to IC3 included: auction fraud, non-delivery of goods, credit card fraud, computer hacking, spam e-mail, child pornography, check fraud, Nigerian letter fraud and more.
Approximately 72,940 of the more than 274,3000 reports made to IC3 in 2008 were referred to federal, state and local law enforcement officials. Of the reports refered, 63,382 involved the loss of money by the victims.
The most common reported Internet crime was a failure to deliver goods to a customer.
According to the report, nearly 75 percent of the people running Internet scams are men, and more than 66 percent of the scams were run from the U.S.
The victims of such scams are usually men between the ages of 30 and 50. The majority are from the U.S. On average men lose more than women to Internet scams. Men lose an average of $1.69, while women lose about $1 to Internet scams.
IC3 received an average of 22,940 reports of Internet scams a month last year. Around 74 percent of the scams reported to IC3 were from e-mails, and around 30 percent from Web pages.
According to IC3, the most common type of scam in 2008 was unsolicited e-mails asking for personal banking information.
The latest one involves an unsolicited e-mail, supposedly from the FBI, claiming the bureau was investigating a case involving money that was due the victim. The victim is asked to provide a bank account number so the FBI can deposit the money. There is also an element of intimidation in the e-mail, suggesting that if the victim does not respond, the FBI may investigate the victim. The FBI does not send unsolicited e-mails to residents, nor does it ask for personal banking information.
Another common Internet crime is hacking into a victim's personal e-mail and then sending e-mails to everyone in the victim's address book asking for money.
The third most common scam was someone posing as a potential roommate and sending a check with more than the amount needed to pay rent to a victim. The victim is supposed to deposit the check and send the extra money back to the scammer in order to help pay for moving expenses. The victims often find that the check is fraudulent and end up losing whatever money they paid to the scammer and paying hefty bank fines.
Victims of Internet scams should contact KPD at 753-2191, MCSO at 753-0753 or the Attorney General's Office at (800) 352-8431.
More like this story