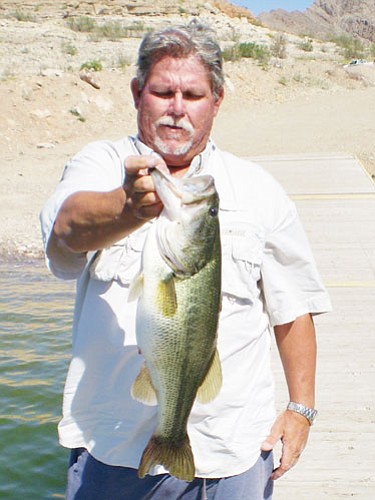 Originally Published: April 1, 2009 6 a.m.
Sometimes, the strangest things happen in the great outdoors when you least expect them.
Take last week for example.
My friend Andy Musacchio and I were at my Meadview place on Tuesday where Andy was doing some tile work while I was working on some other projects in anticipation of the start of the striper fishing season at Lake Mead.
Musacchio, who is from the Queen Creek area outside of Phoenix, wanted to take a break from the work to go out for a few hours on the lake to do a little fishing. Since the boat hadn't been started for six months, I figured it would be a good opportunity to take it out and run the engine.
So about 10 a.m. Tuesday morning, we hit the water at South Cove.
I was surprised to find that the water level is up in the lake and it actually covers the concrete ramp that was built last year. Launching would be no problem this day.
Plus the morning was nice. It was warm and sunny with little wind.
Acting on the advice of local bass pro Shane Moline, who said we should be throwing reaction baits like spinnerbaits and crankbaits, Musacchio and I each tied on a lure and off we went.
Our first couple of stops on the east side of the lake north of Sandy Point produced a lot of sightings of carp splashing in the warm waters in the backs of coves, but no largemouth or stripers were found.
We decided to try the Nevada side of the lake, and before long, I hooked up with a typical South Cove largemouth. It weighed just over a pound and was 13 inches long.
It was high noon when I pulled into another cove and I reached down for the spinning rod and reel that had the deep-diving, shad-colored crankbait tied on.
"We've caught a lot of bass in this cove in the past," I told Musacchio as I tossed the lure over the top of a submerged point that ran off the bank about 30 feet and into the murky waters of Lake Mead.
The lure came over the top of the point, kicking up mud and debris as it moved quickly through the rocks. As it dropped off the ledge, I saw a swirl and the fight was on!
I knew immediately this wasn't a typical Lake Mead largemouth.
I loosened the drag and the line peeled off as the bass ran toward open water and away from the brush and rocks that were on the shoreline.
Finally, the bass came to the top and I got my first look at her.
"This is a huge fish," I told Andy as he looked for a net.
In our haste to get to the water, we forgot the net, so landing this fish would require that Andy reach over and lip the fish. And with a pair of needle-sharp treble hooks hanging from the front of her mouth, this was going to be a difficult assignment.
But Lady Luck was on our side and Musacchio grabbed the trophy bass and brought her on board.
It wasn't until then that I realized this was probably the biggest largemouth bass I had ever caught!
The Rapala scales said she weighed 6 pounds, 4 ounces. She was 22-3/4 inches long and had a girth of 15-3/4 inches. It was obvious she was getting ready to spawn. Remember, this is Lake Mead, where the typical largemouth weighs just over a pound and is from 12-14 inches long.
I know of just three other bass that have been caught on this end of the lake that are larger than this one.
Dr. Larry Finch caught one in 2004 in Virgin Canyon that weighed about 7 pounds. Micah Jones was fishing in a Kingman Bass Club tournament in the same area when he tagged a lunker that was more than 7 pounds. And Bob Hartnett and his son Guy were fishing north of Sandy Point in 2006 when Bob caught a bass that was well over 7 pounds.
So I am proud to say I am now in some mighty good company.
After the obligatory photos and measurements, I gently raised the bass up, and in Jimmy Houston fashion - gave her a little kiss on the nose. Then I released her back into the cool waters of Lake Mead to go about her business and propagate.
In the next hour or so, we hooked up with two other bass, and both were the typical Lake Mead "lunkers."
But my day and probably my fishing season has already been made due to the results of one cast on a beautiful March day on Lake Mead.