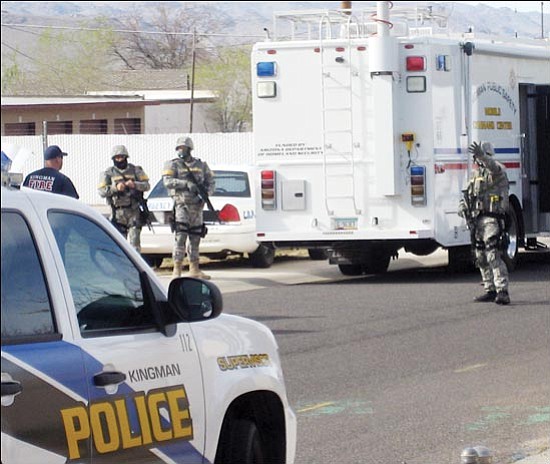 Originally Published: April 1, 2009 6 a.m.
KINGMAN - A standoff between a Kingman man and police ended tragically Tuesday night in a murder/suicide.
Kingman Police believe John Timothy Hett, 49, of Kingman killed his wife, Valery Kim Hett, 45, also of Kingman, during an argument Tuesday afternoon and then turned the gun on himself after calling police.
Officers received the 911 call from Hett at 2 p.m. Tuesday afternoon. He told officers that he had shot someone and then hung up.
Police were able to trace the call and responded to a home in the 2400 block of Chambers Avenue.
At least 50 officers, the KPD mobile command unit, bomb squad and crime scene unit, along with Kingman Fire Department personnel, responded to the scene. Within minutes officers had closed access to a two-block radius surrounding the home and evacuated all the residents in the area.
Hualapai Elementary School on Eastern Avenue went into a "soft" lock down. The outside doors of the school were locked and students were kept in their classrooms, according to a school official. The students were sent home at the normal time. Parents of students walking home were contacted to pick up their children at the school and students riding buses were routed around the area of the incident.
Police heard no shots when they arrived on scene and efforts to contact Hett by officers were unsuccessful, Sgt. Rusty Cooper said.
Bullhead City SWAT and bomb unit arrived on scene at 4 p.m. KPD does not have a SWAT team. SWAT team members entered the home at 7:30 p.m. after a remote controlled robot was used to view inside the home.
SWAT team members found Hett and his wife dead inside the home. A teenage son of the family was secured by police officers at his school shortly after police received the 911 phone call. The son is staying with family members in town.
When asked why it took so long to send SWAT members into the home, Cooper said the department had received information from family members that Hett had a number of weapons and did not intend to be taken alive by police.
It also took a while for Bullhead City SWAT to arrive on scene and set up, he said.
KPD is still investigating the situation.