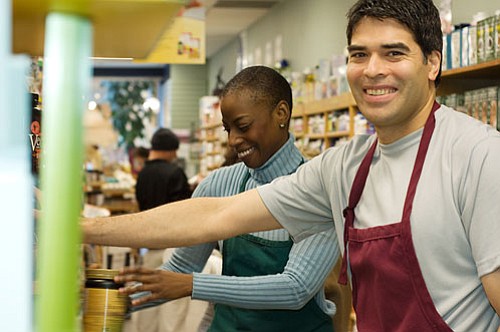 Originally Published: April 2, 2009 6 a.m.
KINGMAN - Preliminary unemployment numbers released Tuesday by the Bureau of Labor Statistics suggest that Mohave County saw its first drop in unemployment in 10 months in February.
Year over year, however, the region's unemployment rate remained nearly four percentage points higher than it was in February 2008.
Unemployment for the Lake Havasu City-Kingman metropolitan statistical area dropped from 9.5 percent in January to 9.3 percent in February, according to the bureau's preliminary data. Total non-farm employment increased from 48,100 to 48,400 jobs, with numbers remaining nearly static in all industries, save three.
The government sector posted the largest increase in jobs, with employment rising from 8,400 in January to 8,700 in February, though it wasn't immediately clear whether those jobs were local or federal in nature.
The leisure and hospitality industry also saw a small bump in month-over-month employment, adding about 100 jobs to January's 5,600.
The only other sector to experience a substantive change in employment was professional and business services, which shed about 100 jobs to drop from 3,200 in January to 3,100 in February.
The hard-hit construction industry managed to maintain the prior month's employment of about 4,200, though that number remains the lowest for the industry since December 2000. Since the collapse of the housing construction boom, the industry has lost nearly half its workforce, which peaked in June 2006 at 7,900.
Year over year, total employment remains down in every sector except government, which remains exactly where it was this time last year. Construction sustained the worst losses proportionally, with employment down 14.3 percent over the last 12 months. The trade, transportation and utilities sector, however, have lost the most jobs by sheer numbers, having shed 1,000 workers over the same period.
Of the 310 metro areas surveyed by the statistics, the Lake Havasu City-Kingman MSA experienced the sixth largest percentage drop in year-over-year employment, dropping 7.5 percent from Feb. 2008. The Yuma MSA also made the list, placing second for worst proportional job losses, dropping 10.9 percent.
Despite the large proportional job losses over the past year, the local unemployment rate remains only slightly higher than the current national rate of 8.9 percent. The highest unemployment rate is El Centro, Calif., where nearly one in every four workers is out of a job.