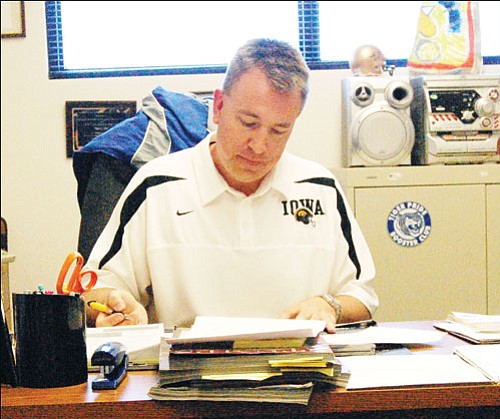 Originally Published: April 3, 2009 6 a.m.
KINGMAN - In order to move ahead in his professional life, Kingman Academy Athletic Director Eric Lillis announced recently he is leaving the high school to become the next principal at Kingman Academy of Learning Intermediate School. Lillis came to KAHS in 2003.
"It's about wanting to advance my career," Lillis said. "This was a great opportunity for me so I took it. The one thing I'll miss the most is the kids. But I'm not going away, and I'm looking forward to my next challenge."
Lillis became the athletic director when Jeff Martin left the position to become principal of KHS. Martin and Lillis have known each other for 14 years.
"We met in (1995) when we were both P.E. teachers in the other district," Martin said. "I got him to come over and it became a great thing. He's grown up a lot of programs. He established a high standard and has done a great job bringing stability to programs we didn't have."
When Lillis started at KAHS, the Tigers had the coed soccer and boys and girls basketball programs rolling. In his first season, Lillis along with the help of numerous others started up the cross country programs.
Volleyball held its inaugural season in 2004 and football followed in 2006. The Tigers' girls softball team began in 2007 and this is the first season for the baseball program at KAHS.
"I've been lucky to find coaches," Lillis said. "I never had a problem finding good coaches."
"He has worked hard and helped to grow our sports program to what it is today," KAOL District Administrator Susan Chan said of Lillis. "We have a lot to be proud of. "The high school will miss him, but he's still with us. And he'll be a great asset to the intermediate school."
Lillis was also an assistant principal at KAHS and an assistant coach for the girls basketball team. Lillis doesn't know if he'll continue to coach because it's unknown how much time his new position will require.
"That's still up in the air," Lillis said. "It's a time issue, and the intermediate school will come first."
Lillis leaves with one goal for KAHS unmet.
"I wish I could have started a wrestling program," Lillis said.
"He'll be missed and we appreciate what he's done here," Martin said. "He'll do a great job as principal of the intermediate school."
KAHS recently hired Tony Victory to take over Lillis' positions.