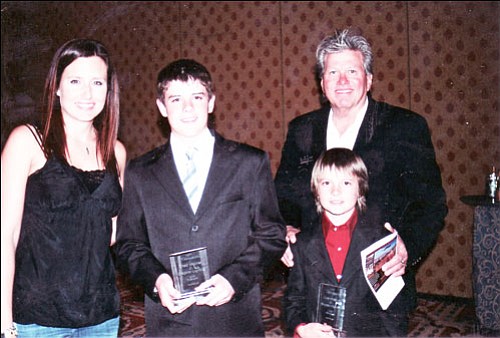 Originally Published: April 8, 2009 6 a.m.
KINGMAN - The Las Vegas Motor Speedway crowned its 2008 champions at a season-ending celebration Jan. 31 and Kingman boys Cody Parsons and brothers Chad and Cody Webber were honored for their achievements during the season.
Cody Parsons won on the Junior Dragster Novice championship at LVMS, Cody Webber won the Jr. Dragster Thunder, and Chad was victorious in the Jr. Dragster Lighting classification.
Brothers Chad and Cody were present April 1 for the Mel Larson Night of Champions held in the Bellagio Grand Ballroom in Las Vegas. Especially exciting for the boys was the appearance of John Force as the guest speaker.
Force is one of the most successful National Hot Rod Association, or NHRA, drivers in the history of drag racing. The 14-time NHRA Funny Car champion has won more than 100 NHRA events, has more than 1,000 individual-round wins and a string of 23 consecutive seasons in which he as won at least one event.