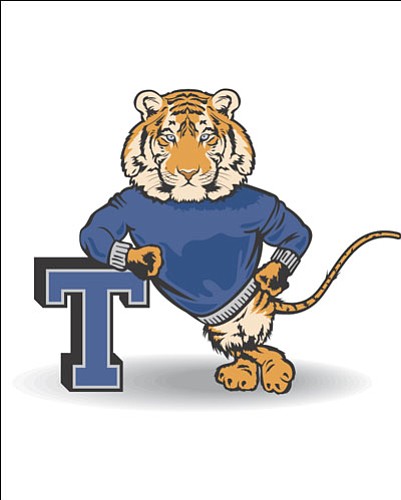 Originally Published: April 8, 2009 6 a.m.
KINGMAN - Two-time Charter Athletic Association state champion EVAC found out Friday in Queen Creek the competition has caught up with it when the Kingman Academy softball team swept a doubleheader from the Eagles, 13-4 and 18-6.
"They'll be out for blood the next time they see us," assistant coach Art Cassman said. "I don't think they've been beaten the last two years. Now they've been handed two in a row, and I think we lit a fire under them."
Jenaye Wisely, EVAC's ace and the CAA Player of the Year the past two seasons, was roughed up by the Tigers in the later innings of Game 1 after KAHS (4-0) had been through the lineup a couple of times. EVAC (4-2) held the lead through five innings.
"It was one of those things when our lineup had to get through once," Cassman said. "The second time through we started hitting her, and the third time we just pounded on her."
The Tigers hit .507 as a team over the two games, 35-for-69. Along with that impressive stat, KAHS only struck out eight times.
"That shows we put the ball in play and put pressure on their defense," Cassman said.
Whitney Diem, Jordan Book and Stephanie Weyermiller did the most damage for the Tigers. Diem had nine hits over the two games, with three triples and eight RBIs.
"Whitney was the thunder," Cassman said. "She just crushed the ball."
Book was 5-for-7 with five RBIs, and Weyermiller was 5-for-8 and also had five RBIs.
"I've gained a lot of confidence," Book said. "Instead of being selective, I just want to crush every single pitch."
"When you get that kind of production from your sticks, you're going to win a lot of ballgames," Cassman said.
KAHS' pitching staff was equally as impressive against the Eagles. In the two games combined, the Tigers limited EVAC to fewer runs than the Eagles had scored on average in each of their prior games.
The trio of Serita Gomez, Miranda Ramirez and Weyermiller kept the Eagles from inflicting serious damage. In Game 1, Gomez went through the EVAC order twice, and Weyermiller relieved Gomez to shut the Eagles down.
"When Weyermiller came in they couldn't catch up to her," Cassman said. "She's a great pitcher in her own right, but give her a great setup and she's lights out."
Book related what the sweep over the Eagles means to the Tigers.
"I think of them as our rivals. Honestly, they're our only competition," Book said. "It felt good to beat them, especially after last year."
KAHS will play at home in its next two games. The Tigers take on Phoenix Crittenton (1-3) at 4 p.m. Thursday and Quartzsite Scholars (6-2) 3:30 p.m. Friday. Both games take place at Centennial Park.
More like this story