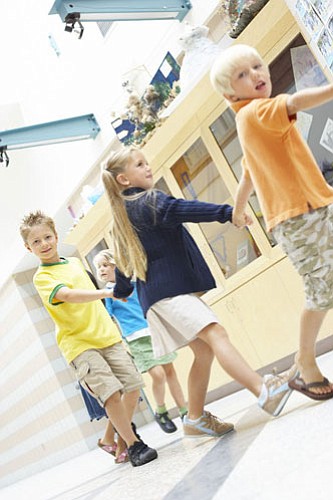 Originally Published: April 10, 2009 6 a.m.
KINGMAN - With a cloudy future for funding from the state, the Kingman Unified School District voted unanimously Tuesday to eliminate full-day kindergarten in favor of half-day classes.
The decision impacts all district schools except Mt. Tipton in Dolan Springs, where full-day kindergarten will remain.
The budget picture isn't clear for next year, Superintendent Roger Jacks said. The state Legislature is proposing the elimination of funding for full-day kindergarten.
With half of the 24 teachers needing to be cut, four kindergarten teachers were reduced at Black Mountain, Cerbat and Palo Christi elementary schools.
The remaining teachers were reassigned to other positions within the district.
The district administration recommended the move due to the potential lack of funding next year and the years following.
"Nobody knows how we can apply the stimulus money," said board member Bill Goodale.
Looking beyond the potential benefits of federal stimulus money during the next year, Goodale said they didn't want to end up falling off a financial cliff in two years.
To run full-day kindergarten, the district expends $650,000. In the face of a reduced budget and removal of funding from the state, all-day kindergarten could increase the school's deficit by more than $1 million. The remaining kindergarten teachers said they would cover the core classes as they have done in the past, Jacks said.
In May 2004, the Legislature voted to fund full-day kindergarten across the state within five years under then-Gov. Janet Napolitano, who described it as a must-have. Napolitano left the governor's post this year to take the position as secretary of Homeland Security.
All-day, no-cost full-day kindergarten started at the district during the 2003-2004 academic year. During the two years prior, KUSD offered optional all-day classes, with parents paying a monthly tuition of $120 to $140 a child to supplement the Arizona Department of Education reimbursement for half-day kindergarten.
"The biggest thing we've learned about all-day kindergarten from the ladies who've taught in it for two years is how strongly they believe in the program," said Assistant Superintendent Betsy Parker in 2003. "They would never want to change back to a half-day program after seeing the growth in the all-day program."