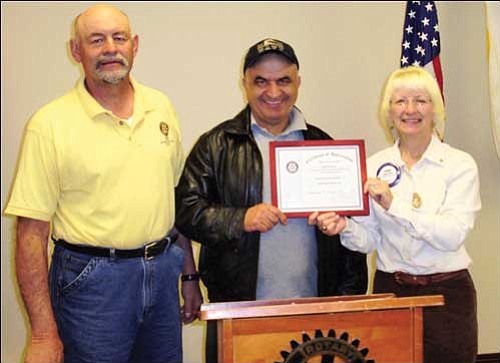 Originally Published: April 12, 2009 6 a.m.
KINGMAN - The Kingman Route 66 Rotary Club has honored John Mirkovich with the Citizen of the Month award.
John mails beef jerky, heart candies, chocolate, battery-operated razors and calling cards three or four times a month to our troops in Iraq for which he has received a Certificate of Appreciation, a Medal of Freedom from the Marine Air Base in Al Asad, Iraq, and an American flag flown at the base in his honor. The U.S. Air Force also recognized John with a certificate of appreciation and medal.
In January, the Kingman Daily Miner wrote that Sgt. Joseph Radowski had his car stolen and torched shortly before leaving for Iraq. John has been in touch with Radowski and will be buying him a new vehicle upon his return.
John also donates meat to the Kingman Fire Department, sponsors Dance Magic Performing Arts Company and KAOL Tiger Spirit Line, donates to the Eagles, and VFW, and to the Golden Valley Assembly of God and Hilltop Foursquare churches.
In December, a pelican was discovered along I-40 near Seligman and Keepers of the Wild contacted John at his Seligman market. John not only rescued the pelican, driving it to Keepers of the Wild, he also later drove it to Sea World in San Diego.