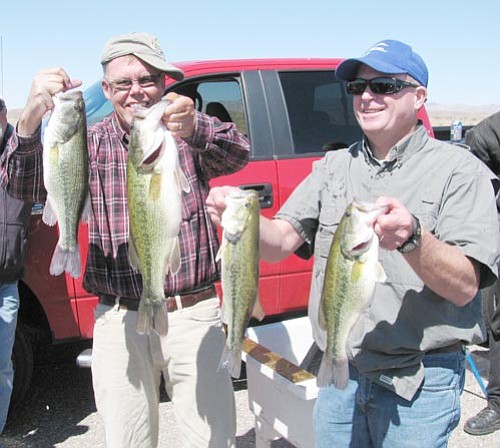 Originally Published: April 15, 2009 6 a.m.
KINGMAN - Achieving something that has never been done in the history of the Kingman Bass Club, Kingman resident Art Fuller won his third straight bass tournament.
Fuller, who was fishing with Mike Miller, brought in a four-fish bag that included the tournament's big fish to easily win the one-day tournament at Lake Mohave.
Fuller/Miller's four bass weighed 11.42 pounds. Their big bass, which was caught by Fuller, weighed 4.82 pounds.
Second place went to Ben Gross and Dennis Davis, who had a three-fish bag that weighed 8.81 pounds. Third place was won by the father-son team of Jimmy and Jerrold Jones, who checked in three bass that weighed 7.08.
Attesting to the tough fishing conditions which included high winds and swells that were more than 3 feet high, not one team had a five-fish limit, and almost half of the field caught either one or no fish. Fuller said the day started off when Miller caught a 3-pound bass. A short time later, Fuller caught a 2-pounder. After moving north, Fuller had two strikes but missed both fish.
Fuller then caught the tournament's big fish while using a drop shott and small finesse worm. Fuller said he caught the fish in about 3 feet of water. He caught one more bass, a small 1-pound fish to end the day. "We never got a bite after noon," Fuller said. With the win, Fuller is in the lead for the club's prestigious Angler of The Year award. His nearest competitor is 18 points behind.
The club's next tournament, which will be held on May 2, will also be out of Lake Mohave. The pre-tournament meeting will be at 7 p.m. April 29 in the conference room of the Region III office of Game and Fish, 5325 N. Stockton Hill Road.