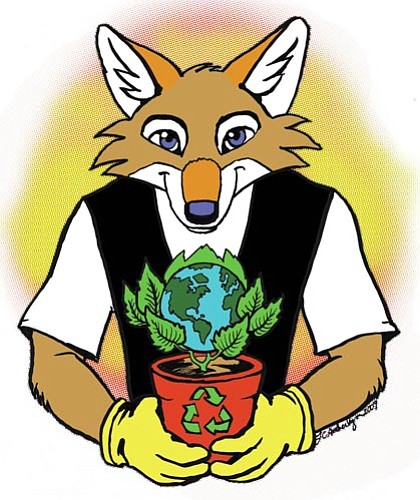 Originally Published: April 15, 2009 6 a.m.
KINGMAN - A summer job has been an easy way to earn spending money and a way into the workforce for many area youth. But it may become a necessity for many youth this year as the economy continues to dip.
Mohave County's Community and Economic Development Services Department is hoping to provide a boost to the local economy and give low-income youth a chance at the job market this summer. Mohave County's Coalition Youth Team is actively looking for low-income youth looking for a summer job.
Funding for part of this year's COYOTE program came from the economic stimulus package passed by Congress earlier this year. Congress set aside $1.2 billion in the package for summer youth job programs. Arizona recently received more than $15 million from the package for youth job programs. COYOTE's share of that $15 million is $465,427.70.
The stimulus money can only be used to help low-income youth, said Jen Miles, Mohave County's workforce development manager. The department must keep track of every dollar spent in order to make sure that it is only being used to help pay for youth training stipends or youth job support services, such as purchasing clothing or necessary tools for a youth job.
"This is a great use of stimulus funds," Miles said. "This is a good option for youth who need to work this summer."
The federal government is hoping that stimulus money will not only provide jobs for local youth but will also boost the economy. Youth usually have more money than most adults to spend on entertainment, food, toys, gadgets, clothing and other items.
This type of spending helps keep the economy going.
The plan is to offer more than 100 jobs for youth in the Kingman area alone. Each youth accepted into the eight-week program will have to interview with potential employers and will receive a training stipend of around $7.25 an hour, but that exact figure is not guaranteed. Youths in the program are evaluated each day by their employer on their ability to show up to work on time, attire, their skill at relating with other workers, accomplishing their tasks on time and others. Each time a youth fails to perform according to the standards set they lose a little bit of their stipend. The program starts June 11 and runs until Aug. 5. Youth will also have to work around 30 hours a week.
"We tried to keep it as realistic as possible," Miles said.
The program is free to local businesses that take in COYOTE youth employees. Mohave County pays each youth's training stipend while they are a part of the program.
COYOTE is holding a job fair in order to attract attention to the program. The fair is limited to low income youth ages 16 to 24 from and will run from 9 a.m. to noon and from 1 to 4 p.m. on April 18 at the Mohave County One Stop Career Center, 700 W. Beale Street. In order to attend the job fair, youth must register by calling (928) 753-0723 ext. 4338.
Low-income youth interested in signing up for COYOTE should bring a parent or guardian if they are under the age of 18, their birth certificate, their Social Security card and a picture ID.
Along with some sort of ID, either a birth certificate or Social Security card, for each member of their family; evidence of household income, which can include pay stubs, cash assistance, food stamps or SSI records for the last six months; and school records, such as report cards, transcripts, a diploma or drop-out records.
"We are hoping to get a lot of youth," said Miles. "We need to get the youth engaged in work and teach them work skills."
"The benefit to the community is going to be great," she said. "They're (the youth) are going to leave with better job skills and some of the older youths may be able to transition into full time positions."
COYOTE also helps youth who are not disadvantaged to polish their job skills. The program still has a few slots left for non low-income youth applicants. For more information, contact COYOTE at 753-0723 ext. 4338 or fill out an application on line at www.co.mohave.az.us. Click on the departments tab, and then click on the link for Community and Economic Development and then on the link for the COYOTE program.
"We hope people will see this as a good investment in our youth," she said. "This is the leg up that many youth need to get into the workforce. These skills will benefit them for life."