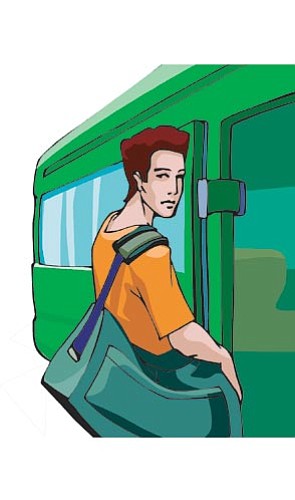 Originally Published: April 16, 2009 6 a.m.
KINGMAN - A new report released by the Arizona Public Interest Research Group hails recent efforts by the Western Arizona Council of Governments and the Arizona Department of Transportation to establish a bus route connecting Kingman, Bullhead City and Lake Havasu City.
The report, titled "Arizona's New Frontier: Moving Our Transportation System into the 21st Century," includes the tri-city transit study among its list of efforts to improve and add transit options for commuters across the state.
The report highlights Mohave County's increasing demand for public transit and the large population increases projected in the coming years as primary arguments in favor of the bus route.
"It represents the fact that transit is not something that is useful for just our urban centers - the Arizona Department of Transportation recently did a study showing that less than 20 percent of rural transportation demand is being met," said Arizona PIRG's Alex Nelson, one of the report's authors. "There's this psychology that transit is something that's only for people living in big cities. We need to make sure we've got a transportation system that meets all of our communities' needs, and having a transit system is a part of that."
The report notes that, while public transit service remains fairly new to the area, demand for it has grown quickly, with more than 317,000 passenger trips taken on public transit in the three cities from July 2005 to June 2006. The report further cites a study that projects more than 80,000 riders would use a bus system that connected all three cities, including 50,000 one-way trips between Kingman and Bullhead City, 22,000 trips between Kingman and Lake Havasu, and 6,600 trips between Lake Havasu and Bullhead City.
The Miner conducted a poll of online readers in March that found fully two-thirds of respondents would utilize a tri-city bus route at least occasionally, with 34 percent indicating they would use such a system "all the time." Nelson said such statistics aren't surprising, especially after last summer's sky-high gas prices caused many to re-evaluate their driving habits. "You see a lot of data coming out such as, statewide, transit ridership has gone up 8.8 percent in the first eight months of 2008. During that same time period, miles driven decreased by 2.9 percent," he said. "Across the state, we've seen some excellent savings in terms of people driving less, using transit more often."
Those changing habits are reflected in Arizona PIRG's report, which notes a 12-percent increase in KART ridership between fiscal year 2007-08 and FY08-09. Similarly, Bullhead City's transit system experienced an 18-percent spike in ridership in the third quarter of 2008 alone.
But Nelson noted that the sword has two sides - while interest in public transit has risen as a result of the economic downturn, funding for transit has dwindled, as many municipalities face shrinking tax receipts. In fact, just last week Kingman's City Council discussed the possibility of cutting KART's Saturday services for FY09-10 in order to offset the cost of street maintenance that, in better years, would have been funded by the city's share of the state gasoline tax.
"When people need transit the most is when the system has the least funding available," Nelson said. "One of the recommendations we make with our report is to create a stable and dedicated funding source that protects our transit from the ebbs and flows of our economy and the whims of our politicians, because we want to ensure our transportation system is available to people when they need it the most."
Nelson added that, while Arizona has taken positive steps toward public transit in recent years, more investment is needed to tackle the problems of congestion, air pollution and dependence on foreign oil.
"In Mohave, having that tri-city bus system makes sense in having a way of moving people around, whereas in some of the larger metropolitan areas, it makes more sense to have heavy rail projects, like a high-speed rail to connect Phoenix and Tucson," he said.
Meanwhile, ADOT has completed its evaluation of the tri-city bus route's feasibility. It will now go before the Tri-City Council at its upcoming meeting Friday in Kingman, where WACOG Deputy Director Dave Barber is expected to ask representatives from all three cities to approve the transit study's second phase - implementation.