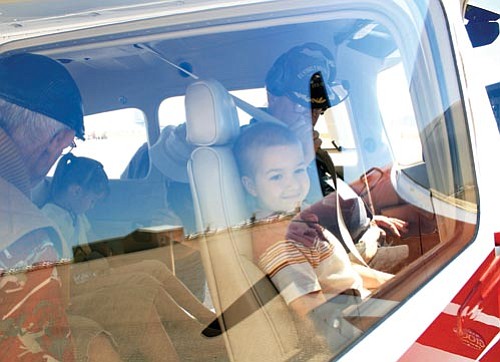 Originally Published: April 21, 2009 6:15 p.m.
Left: Levi Connor smiles with anticipation as he, his sister Cassidy, and Jason Brooks prepare to go up in an airplane piloted by King Sharpton during "Young Eagles" day at Kingman Airport Saturday. The Experimental Aircraft Association Chapter 765 - Don Downey Memorial Chapter hosts the event annually, which allows kids age 8-17 to ride in an airplane for free. "Young Eagles" attempts to get young people interested in aviation and is an all-volunteer effort. All pilots are members of EAA and certified. Kids were flown over Kingman and often their school or street. After flying, they received a certificate signed by the pilot who flew the plane. Call Gene Wolff at 757-3870 for more information or visit www.eaa765.org.
Bottom Left: Mayor John Salem (second from left) presents his Young Eagle Day proclamation to Experimental Aircraft Association Chapter 765 president John Pool (left) and chapter officers Gene Wolff and Julia Downie at the Kingman Airport EAA Hangar Saturday morning to open the event.