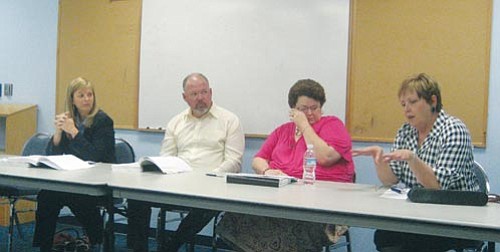 Originally Published: April 24, 2009 6 a.m.
KINGMAN - Kingman residents seem pleased with the way the city of Kingman is handling its 2009/2010 budget, judging from a dozen residents who attended a town hall meeting Wednesday evening sponsored by Residents Against Irresponsible Development.
Two council members, Robin Gordon and Janet Watson, along with Kingman Mayor John Salem and City Finance Director Coral Loyd answered questions about the city's proposed budget and some of the belt tightening the city administration has done to keep it balanced.
"If you're making that kind of progress, from $9 million to $6 million, that's $3 million saved. I'll applaud you for that," Loyd Peterson said, referring to cuts and adjustments made by the city in the next year's budget.
"As long as you're going in that direction I'll support you every day of the week."
He promised to blog on the topic. "I've been really proud and hard on the city," he said. "Everybody knows it."
RAID President Mike Bihuniak called the conversation a refreshing change from the past administration.
Salem explained to the small group that Loyd and City Manager Jack Kramer noticed a downturn in city revenues about 18 months ago, The city has tried to be conservative in estimating the revenues it plans to take in for each year, since.
Because of good planning on the part of Loyd, Kramer and city offices being conservative in their spending, the city is currently in the black and even has a small contingency fund, he said.
"Typically what you find in government offices is a hurry up and spend it attitude," Salem said. "Not at this city."
Loyd, Kramer and Salem found that city offices were limiting their spending to only what was necessary and leaving the rest of the funds in the city coffers.
"We have a balanced budget," Salem said, holding up a copy of the proposed 2009/2010 budgets.
A number of positions in the city have been cut from the budget and employees have been shifted to fill some open and uncut positions, he said.
Another item the city cut from the budget was funding for a $100,000 impact fee study, Salem said. The city thought the study was required every five years by state statute, but it turns out the study is only necessary if the city wants to increase the fees.
"We're not looking to increase them," he said. "If we would adjust them it would probably be to lower them."
The city is expected to have $8.3 million in its general fund next year, but that could change quickly, he said. The Legislature is looking at raiding the State Shared Revenue and Highway User Revenue funds in order to balance the state budget. Those funds are slated for cities and counties across the state and help pay for road improvements and other projects.
"This is what really scares us. If it happens we're going to have to do some fancy footwork with this," Salem said, holding up the budget book again.
The city already has plans to not replace some police cruisers, public works vehicles and leave positions unfilled in the next year. If the state raids the Shared Revenue and HURF the city will have to start cutting services to residents, he said. That's something the city wants to avoid.
"I think we're putting a Band-Aid on things future city council members and residents are going to have to deal with," said Gordon.
Watson agreed with her, saying at some point the maintenance costs for city vehicles will become more expensive than buying a new vehicle.
But for now the city simply has to put purchasing new vehicles and other items on the back burner.
"We're doing the best we can," she said.
Resident Marvin Robertson asked if the city couldn't use some of the impact fees it collected in years past toward some of its necessary projects.
Impact fees can only be used to support new growth, Loyd said. They cannot be used to repair existing roads. They can be used to hire new officers, firefighters and equipment, but currently there is not enough money in the impact fee fund for safety services to do this.
Bihuniak asked if the city couldn't use funds set aside for the Rattlesnake Wash Interchange for something else, since the Arizona Department of Transportation had taken the interchange off its five-year plan.
The funds set aside for Rattlesnake were supposed to come out of the impact fee fund, Salem said. The money couldn't be used for anything other than projects to support new growth.
The amount slated for expenditures seemed to be larger than estimated revenues in the proposed budget, Loyd Peterson said, pointing to a graph in next year's proposed budget. Was the city going to be involved in deficit spending next year?
The city was being conservative in its revenue estimates, Loyd said. The expenditures could be and would be cut if revenues did not match.
Loyd thanked residents for continuing to shop in Kingman and city offices for not spending more than they needed.