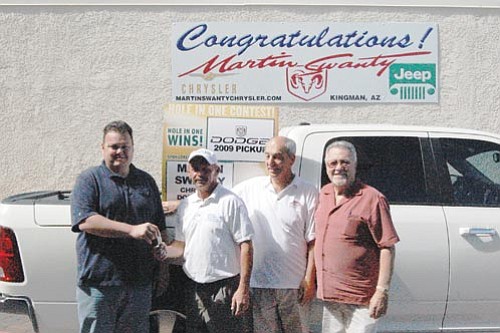 Originally Published: April 24, 2009 6 a.m.
KINGMAN - Martin Swanty of Martin Swanty Chrysler Dodge Jeep had to be convinced by tournament director Chuck Sperrazza to sponsor the hole-in-one prize for the Third Annual Northern Arizona Building Association Home Builders Golf Tournament Saturday at Cerbat Cliffs Golf Course. Gene Suggs is most likely the happiest of all that he did.
"I had to think about it a little bit," Swanty said. "But it's a good cause and a good local sponsorship."
Swanty sponsored the hole-in-one with a $40,000 Dodge Ram with a Hemi engine and toolboxes.
"It's loaded with everything," Swanty said. "It's a nice truck."
The truck was offered as the prize on the sixth hole, which played 157 yards on Saturday. The keys soon dropped into Suggs' hands.
"I was the fifth one off of the tee box," Suggs said. "My idea heading into the wind and it being tournament play was to just get the ball onto the green. I knocked it 8 feet short; the ball released and rolled in. And I didn't even believe it."
Suggs said he's been playing golf for 18 years and this was his third hole-in-one. His other two came during casual play with his friends. When Saturday's shot fell into the cup, Suggs was stoked, but not about the truck.
"I wasn't even thinking about the truck," Suggs said. "I was more excited about the hole-in-one."
Now that the truck is in Suggs' possession, it has a special meaning for him.
"It's bragging rights," he said. "I didn't realize what I had done and it didn't sink in until Monday, two days later."
Dave Owens of CCGC has been a golf pro for 10 years and he's never seen anything like Suggs' accomplishment.
"In all my years, I've never seen a hole-in-one to win a vehicle," Owens said. "I've seen them for clubs or a year-long supply of balls, but never for a truck."
Though it's going to be hard for Suggs to improve on Saturday's truck-winning shot, he's not about to give up trying.
"It's definitely a shot that will bring me back. I play two to three times a week anyway," Suggs said. "Hole-in-ones are just luck. I did go buy lottery tickets that night, but I didn't win."
Suggs also won a $200 skin and $25 in the closest-to-the-pin contest. And Swanty presented Suggs with a golden putter for the hole-in-one, but the putter made Suggs perplexed.
"I'm wondering why I got a putter," Suggs said. "I didn't have to putt."
There was only one downside to Suggs' experience in the tournament.
"The bar tab went up a little bit after that," he said.
The NABA tournament is a fundraiser to benefit local charities such as R.O.O.T., an outreach program for teens in Kingman, and the Boys & Girls Club.
"Gene plays golf there all the time," Swanty said. "It was his time and his turn."