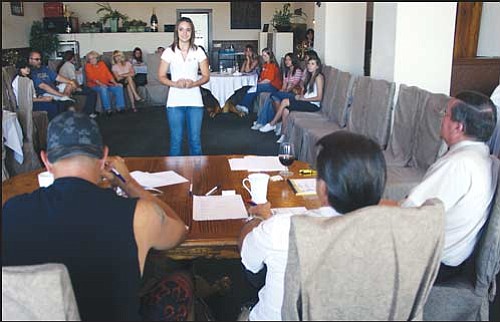 Originally Published: April 26, 2009 6 a.m.
GOLDEN VALLEY - One Golden Valley woman wants to make sure that Mohave County is represented again in this year's "American Idol" auditions.
April Farey is once again hosting "Can Mohave Sing?" starting at 8:30 a.m. Saturday at EAGLE Academy, 423 S. Colorado Road in Golden Valley. Auditions will last all day. This year, however, there will be breakfast, hotdogs and drinks available throughout the day.
The first 25 contestants who register will receive goody bags.
The winner of the contest will be announced that afternoon and just like last year will receive funds to assist with hotel, meal and gas expenses to the "American Idol" tryouts in Glendale this year. The winner is responsible for travel arrangements to Glendale.
The contest is limited to residents ages 16 to 29. Those younger than 18 must have a parent or legal guardian sign a waiver.
Farey teamed up with a number of local businesses last year to put on a similar event.
Last year's winner was Mariah Moon. She and her mother were given more than $300 to assist with hotel, meal and gas expenses. "She came back and told me she had the time of her life," Farey said.
Farey came up with the idea of the contest last year. She enjoyed watching "American Idol" and thought how much more exciting it would be to have someone from Mohave County to cheer on. To pre-register or for more information, contact Farey at (928) 565-4114.