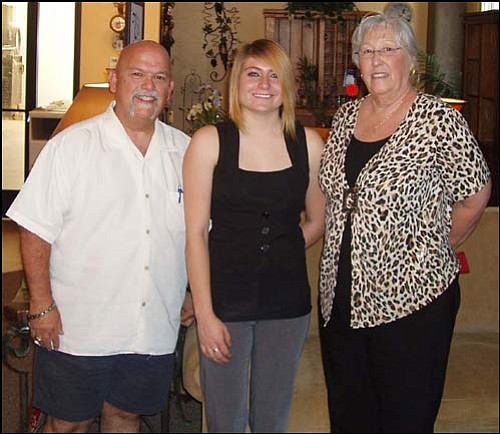 Originally Published: August 2, 2009 6 a.m.
KINGMAN - Mohave County's COalition YOuth TEam participants have had the opportunity to learn some new skills while working in several different jobs in Mohave County. They are learning to work with the elderly and with children, libraries, colleges and museums.
At The Gardens Care Center, COYOTEs Meghan James and Mary Forman have been planning activities with the senior residents. The COYOTEs interact with the seniors and help set up activities for them to do.
"I like to talk to and hang out with the residents," Forman said.
"I think COYOTE is a good program and was organized really well," said Yivette Scroggins, supervisor of both COYOTEs.
At the Mohave Museum of History and Art, COYOTE Katrisha Beyer is working with her supervisor, Louise Benner. Beyer has been greeting visitors and handling cash.
"The COYOTE participant has been very professional and courteous," Benner said.
"I like this job because it is a fun work experience," Beyer said.
At Home Style Furniture, COYOTE Rachel Sandoval is working as an interior designer with her supervisor, Gary Christopher. She has been designing rooms and putting furniture together to make them look good.
"This job is really helping me for the future because, when I get older, I want to be an architect," Sandoval said.
At the Katheryn Heidenriech Adult Center, COYOTE Sabrina Short is working as an activities assistant with her supervisor, Debera Daugherty. Short has been assisting the staff when asked and setting up activities with the elderly.
"The COYOTE participant is enthusiastic and knowledgeable," Daugherty said.
At Helen's Place, COYOTE Kathy Nowicki is working with her supervisor, Chris Crowley, as an assistant care giver. She has been doing laundry, setting the tables and helping with the residents.
"The best part about this job is going home knowing that I made a difference in the residents' life, even if it is small," Nowicki said.
At Kingman Area Regional Transit, COYOTE Clayton Wilson has been working with his supervisor, Pat Hanson. Wilson has been doing office work, and he also sorts and counts the money from the drivers.
"This job has taught me a lot about working in an office and how to do spreadsheets," Wilson said.
Chat 'N' Chow has hired three COYOTEs: Courtney Bits, Darren Lewis and Robert McIntosh.
Bitz's job as an office assistant requires her to enter data and keep track of who comes in.
Lewis' job as a cook shadow is washing dishes and getting food ready to serve.
McIntosh has been working as a groundskeeper. He washes cars, pulls weeds and does other maintenance work.
Supervisors Mary Vannurden and Rena Arnolds both agree that the COYOTEs are willing to learn the skills required for the job.
Supervisors Shannon Samson, Larry Chapman, Cathy Barbor and Kathy McGehee from Mohave County Library hired five COYOTEs: Kasey James, Shauna Cunningham, Arthur Martinez, Brendalyn Schoenborn and Shaun Wootten.
James has been shelving books, working on donations and entering data onto the computer.
Cunningham has been working with security and has been doing some maintenance.
"I wish the program was longer because I really like it and it's a lot of fun," Cunningham said.
Martinez has been loading books and delivering them.
"I like reading so it's fun to be around books all day," Martinez said.
Schoenborn enters data and helps with other various projects.
Wootten has been working as a technical service assistant. He puts covers on books, changes book locations, puts labels on books and discards books.
"The COYOTEs we selected are outstanding," the supervisors said.
Mohave Community College has hired several COYOTEs to work in different departments, including the library, distance education, student services and technical support services.
Brooke Trujillo is working as a library aide. She also works with customers and helps check books in and out.
"This is my third year in COYOTE and I think it is a really great program," Trujillo said.
"You can tell the COYOTE program is teaching the youth valuable things because during interviews they were very professional," said Amber Tacey, Trujillo's supervisor.
Steven Reynolds is working as an assistant to MCC Distance Education. He has been interviewing people on the MCC campus to find out about their jobs.
"Steven is patient, has a good attitude and works well with others," said Mark Wyble, Reynolds' supervisor.
Brandon Howard is working as a receptionist for MCC Student Services. He has been setting appointments, taking phone calls and filing paperwork.
Cole Duvall is working as an intern for MCC Technical Support Services. He fixes computers and installs programs.
"This is my first year in COYOTE and I would really love to come back," Duvall said.
At Kingman Parks and Recreation, COYOTE Shane Ortega is working as an assistant. He interacts with and watches the children.
"This job is giving me a lot of experience with kids," Ortega said.
"This is our first time participating in the COYOTE program and we like it a lot so far," said Sara Becenti, Ortega's supervisor.