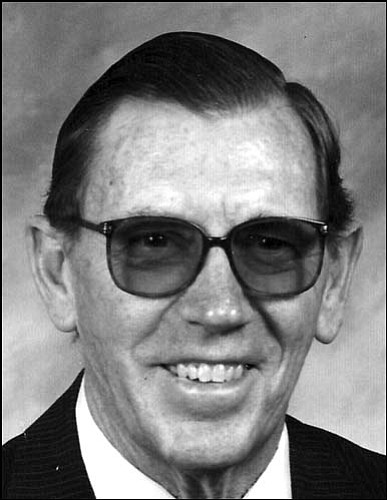 Originally Published: August 2, 2009 6 a.m.
Joseph Peter Feilen was born Dec. 25, 1930, to Thomas and Mary Feilen in Goldwin, S.D. He went home to our Lord on June 11, 2009. He chose to donate his body to scientific research, hoping it will help find a cure for the deadly sarcoma he suffered from the last months of his life.
Joe was raised on farms in South Dakota and Minnesota. In 1948, he joined the U.S. Navy. He was a boiler tender on the USS Mercury; he enjoyed seeing lots of the world in the Navy.
In 1952, Joseph Feilen and Norma Cooper were united in marriage in St. Casimir's Catholic Church in Sioux City, Iowa. They spent their first seven years in the Minneapolis area, moving to California in 1959. They return to Minnesota in 1968. After retiring in 1992, Kingman has been their home. Joe worked in construction most of his life; he worked part-time for about 12 years at St. Mary's Catholic Church in Kingman and Our Lady of the Desert Mission in Dolan Springs. He loved working and being with people at St. Mary's and Our Lady of the Desert.
Joe is survived by his wife of 56 years, Norma; his children, Patricia DeFore, Joanne (Paul) Kaczmar and David (Sue) Feilen of Kingman; and by his daughter-in-law, Cynthia (Al) Hopper of Coon Rapids, Minn; by eight grandchildren, Melissa (Rob) Hagerstrom, Jacob (Dawn) Clyne and Joshua Clyne, Christopher (fiancée Amanda) Feilen and Sean Feilen, Jessica (Brandon) Delgado, Dillon and Brandi Feilen; and five great-grandchildren, Brianna, Katelynn, Brandon, Kayden and Avery. Survivors also include his sister, Mary Shear; and brothers, Edward (Dena) and Raymond (Nancy) Feilen of California; brother, Leo (Elaine) Feilen of Nevada; and brothers, Henry (Ruth) and James (Joanne) Feilen of Minnesota; sisters-in-law, Marcia (Larry) Gronskei and LaVonne Cooper of Kingman, Lorna (Al) Trapp and Rachel (Chuck) Landon of Minnesota, Linda (Mick) St. John of South Carolina; and brothers-in-law, Rudy and Bernie Cooper of Kingman, Danny (Julie) Cooper of Wickenburg and Brian (Valerie) Cooper of Tennessee; plus numerous nieces and nephews. Joe was preceded in death by his son, James Joseph Feilen, in 1987; his parents; four brothers, Matthew, Carl, Thomas and John; and two sisters, Irene Kleveter and Leona Laddusaw.
Joe joined the Knights of Columbus in 1991 in Elk River, Minn., transferring to Council No. 3145 in Kingman in 1992. He became a 4th Degree Knight in 1998, with the Black Mountain Assembly No. 2476. He volunteered many hours with the KCs, enjoying the fellowship plus the endeavors by the KCs in helping the church, seminarians and various organizations. He enjoyed fishing, hunting, horseshoes, bowling, playing guitar and harmonica, singing and listening to his "Buck Owens" songs. Joe had a smile for everyone and never knew a stranger. He was a loving and caring husband, father, grandfather and great-grandfather.
A funeral Mass will be held at 10 a.m. on Aug. 8 at St. Mary's Catholic Church, 302 E. Spring St., Father Matthew Krempel officiating. A reception will follow at the Knights of Columbus Hall, 2255 E. Butler Ave.
At Our Lady of the Desert Mission, 16041 Pierce Ferry Road, Dolan Springs, a rosary will be recited at 3 p.m. on Aug. 8, after which the Black Mountain Assembly Knights will present a chalice in memory of Joseph to his wife, Norma. A eulogy will follow the presentation. The 4 p.m. Mass in Dolan Springs, Father Julius Kayiwa officiating, will be a memorial Mass for Joseph and the chalice will be presented to Father Julius at this Mass.
Burial will be at 11 a.m. Aug. 10 at Southern Nevada Veterans Memorial Cemetery, 1900 Buchanan Blvd., Boulder City, with Deacon Bill Del Monaco officiating.