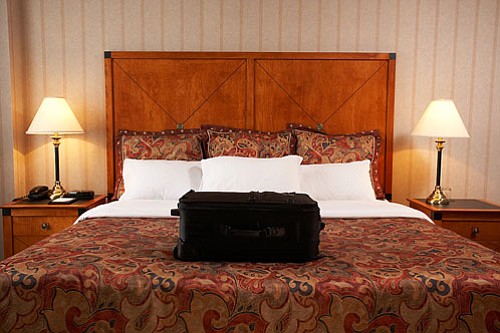 Originally Published: August 5, 2009 6 a.m.
KINGMAN - The Kingman City Council on Monday lent its tentative support to raising the city's room tax, as well as implementing a separate tax on restaurants and bars.
However, members agreed that they needed more input from affected businesses before approving any resolution, putting any vote at least a month away.
Council discussed the possibilities of raising the bed tax from the current rate of 2 percent to either 3 or 4 percent.
The increase was proposed by Councilwoman Robin Gordon as a potential means of generating more money to go toward the city's Economic Development and Tourism Commission as well as for capital improvements to the historic downtown business district, which Gordon and other councilmembers have seen as a potential cornerstone for new tourism.
As could be expected, the notion drew fire from several local hotel owners, who argued that the city's bed tax was already in line with most other Arizona cities, and that it was unfair for hotels who weren't in the downtown area to have to pay to enrich that area.
The owner of the Hill Top Motel, Herberta Schroeder, urged Council to instead consider a more equitable across-the-board sales tax increase so as to avoid placing the burden of tourism strictly on one industry. She argued that occupancy levels for motels were already down due to the recession, and many potential customers have already been turned away by the combination of city sales tax, state sales tax and the bed tax.
"I already have people who call for reservations and say 'Oh my god, how much is your tax?'" Schroeder said. "You tell them, and sometimes they go ahead with their reservation, and sometimes they don't."
Schroeder went on to say that she understood the need for taxes in general, as well as the importance of economic development to the city's future; but she again stressed that it was hardly fair to weigh the responsibility solely on tourists and restaurant-goers.
Former councilman and owner of Best Western King's Inn & Suites, Tom Spear, agreed with Schroeder, arguing that the responsibility for improving downtown Kingman should fall to the businesses currently located there, not to a hotel all the way across town. He further questioned giving more money to ETDC without an accompanying plan for how the money would be used.
"Because we're the ones who're going to be collecting the tax, you need to show a real return for what we're doing," Spear said. "That is the crux of it - you need to start with a concept and a budget, not just a dollar amount and saying 'It hasn't been raised in this amount of time. This is a golden goose, let's see if it'll lay another egg.'"
For the most part, however, Council was cautiously accepting of the idea. Gordon led the discussion, claiming that setting money aside each year specifically for downtown would enable the city to make the kind of capital improvements that will eventually draw new tourism dollars to the whole city, and eventually new business ventures as well.
"I think that the better our downtown looks, the more tourists we're going to attract, and we'll put more people in hotel rooms," she said. "Businesses that come to our community look at our entire town to see what kind of town they're coming to. If our downtown looks good and has things going on and is vibrant, I think it makes our whole community look better."
Councilman Ray Lyons agreed with Gordon that raising the bed tax was "way overdue," adding that he believed it should have been raised years earlier. He added that Spear's argument for budget accountability rang hollow, since many towns who do charge bed tax allocate it for purposes entirely unrelated to the hotel industry.
"A lot of cities use that bed tax money for the general fund," Lyons said. "I'm not saying that's what should be done with it, but that's what a lot of cities do." While he supported raising the bed tax by 1.5 percent, Lyons noted that a restaurant and bar tax was "not an option" in his opinion.
Councilwoman Carole Young said she was uncertain on how a 2 percent increase should be split between ETDC and downtown projects, but she did agree with the idea, though she maintained such an increase should be earmarked specifically for economic development rather than an unrelated fund.
Councilman Kerry Deering was the primary voice of opposition to the tax increase. He agreed with Spear's contention that the downtown merchants bore the primary responsibility of developing the downtown area, arguing that the proposed tax increase would not generate enough new revenue to turn downtown into a tourist attraction anytime soon.
"It wouldn't be enough money to even start with what really needs to happen," Deering said. "That's gonna happen - I do agree with Tom - when property owners, business owners get together, come up with a common bond and reinvent downtown."
Deering did not rule out raising the bed tax, however, if for no other reason than that it might be necessary to balance the budget if the recession worsens over the next year.
Councilman Keith Walker and Vice Mayor Janet Watson agreed with Deering that, while they each could support raising the bed tax, they were hesitant to give the money to downtown when most hotels weren't located there. Watson added that she might change her mind if the money was specifically earmarked for capital improvements instead of just economic development for downtown.
While he admitted he was reluctant to raise taxes, Mayor John Salem said he wanted to continue receiving input on both the bed and restaurant taxes before committing to them one way or the other. He directed city staff to contact the owners of hotels, restaurants and bars around town to hold further discussions, and possibly a town hall meeting, over the next several weeks.