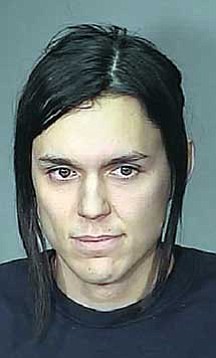 Originally Published: August 6, 2009 6 a.m.
KINGMAN - A final report on the competency of a man charged with killing his father and then setting his house on fire is expected within 60 days.
Shawn Avery Guerrero is charged with felony first-degree murder. He was 26 when he allegedly shot his father, 59-year-old John Guerrero, in the neck and back before setting fire to his father's home Sept. 27.
Guerrero was arrested the next day by Tempe police on an outstanding misdemeanor warrant after an attempt to locate was issued.
Judge Rick Williams ordered Guerrero to undergo psychiatric treatment at the Arizona State Hospital in Phoenix six months ago, after two doctors with the Mohave County Jail said he was not mentally competent and unable to assist in his own defense.
The ruling was made then to determine if Guerrero could be deemed competent after receiving treatment through the state hospital.
Carlene Lacy with the Mohave County Public Defender's Office said Wednesday that she expects the final report to show that Guerrero is now competent to stand trial, although she added that that determination has not been finalized.
Court documents indicate that friends and family told officials Guerrero suffered some sort of nervous breakdown in Spring 2002. A licensed counselor who spoke to Guerrero last year said it was his opinion that Guerrero suffered from paranoid personality disorder, although that interview was cut short because Guerrero became suspicious of the counselor.
Guerrero underwent another evaluation in February where he identified himself as female and referred to himself in the third person. He said that he had been in the Air Force and killed 763 people in Iraq. The doctor at that time said Guerrero displayed prominent disassociate symptoms as well as thought disorganization and psychosis.
In addition to first-degree murder, Guerrero also faces charges of arson of an occupied structure, two counts of criminal damage, tampering with physical evidence, disorderly conduct with a weapon, resisting arrest and animal cruelty. John Guerrero's dog, Able, was also killed in the fire.