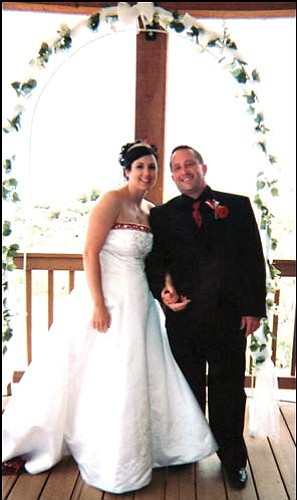 Originally Published: August 9, 2009 6 a.m.
Daysha Daylene Roberts and Christopher Durkin were wed May 30, 2009, at Uptons Hidden Pines. The bride is the daughter of Danny and Daysha Roberts of Kingman. The groom is the son of Daniel and Cynthia Durkin of Ohio.
Presented in marriage by her father, the bride was attended by Heidi Johnston, Trena Fraka, Talia Roberts and Kristin Fast. Groomsmen were Jeff Weiche, Joe Ott, John Salem, Dana Hlavac and Rich Brannies. A reception followed the wedding with over 200 guests attending.
The bride is a graduate of Kingman High School and is currently a massage therapist at Zen Salon and Day Spa. She received her massage education in Las Vegas and Salt Lake City. The groom is currently working in advertising.
The newlyweds are residing Golden Valley.