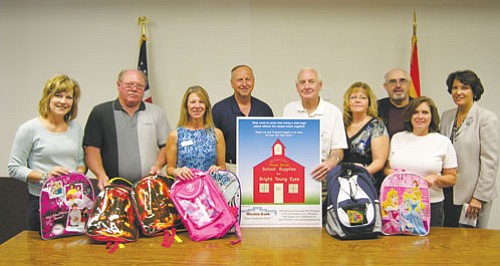 Originally Published: August 11, 2009 6 a.m.
KINGMAN - With the start of the school year just around the corner, parents have been scrambling to stock up on uniforms, pencils and all the other supplies their children will need for the coming months. But for those families who have had trouble meeting all their children's school needs, one local bank has been working to help.
For the past two months, Mission Bank has held its seventh annual school supply drive, collecting donations of money and school supplies to go to underprivileged area school children. On Monday, bank administrators presented Kingman Unified School District with some of the fruit of their efforts - 115 coupons for free uniform T-shirts, courtesy of donations made by bank customers and local volunteer organizations.
"These were purchased with money we raised," said Debbie Catt, Mission Bank's director of public relations. "We really appreciate the support we get from the community."
The coupons will be distributed to each KUSD school based on their anticipated level of need. The coupons are currently being redeemed at only one certified KUSD uniform vendor, the Arizona Sign Co. at 2411 Louise Ave. Parents who wish to take advantage of the coupons can call their corresponding school's principal to request one.
"This is great because, if a family's in need, they can work directly with the principal," said assistant district superintendent Wanda Oden.
Aside from the coupons, Mission Bank also collected more than $3,000 to go toward the purchase of school supplies. Today, Catt said, bank employees are buying the final supplies and stuffing them into backpacks for distribution to schools throughout the city Wednesday.
Pleasant surprise
Catt said she was impressed to see how much the bank collected this year, especially with the many still hurting from the nationwide recession, which is now in its 20th month.
"We actually weren't expecting to do so well this year because of the economic times, but we were surprised," she said. "A lot of it comes from our clients. A lot of them just drive through and make a donation,"
Catt noted that other local organizations and even some businesses have helped out as well. The Soroptimist Club and UniSource Energy Services, she said, were two particularly big contributors, and the Daily Miner contributed to the effort by offering a reduced rate on advertising for the supply drive.
"It's our seventh year, and every year just seems to be better," said Mission Bank's president and CEO, Darrell Lautaret. "It's gratifying to see the community come together, especially in such difficult times."
Not surprisingly, that sentiment goes double for the district.
"I'm finding that our community is very generous," Oden said. "This is wonderful news for our schools."
While its main summer drive has come to an end, Mission Bank will continue to collect donations and school supplies throughout the year. Donors can receive a collection bag and a list of needed supplies from any of Mission Bank's three locations: 2439 Hualapai Mountain Road or 1370 E. Northern Ave. in Kingman, and 1455 Palma Way in Bullhead City. For more information, call Catt at (928) 718-5555.