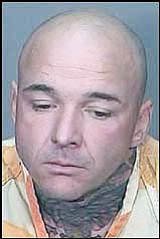 Originally Published: August 13, 2009 6 a.m.
KINGMAN - The defense has filed for a change of venue in the case against Chad Weitherow.
Weitherow, who will turn 37 next week, is one of six men charged with breaking into three Kingman homes March 15 and assaulting the homeowners while brandishing weapons and demanding money. Several of the homes' occupants were injured, including one homeowner who was sent to the hospital with broken bones.
Jessie Padilla, a co-defendant in the case, was released from custody last week after agreeing to testify against the five other men. As part of the agreement, Padilla pleaded guilty to one charge of felony first-degree burglary and had the charge reduced from a dangerous felony to a non-dangerous felony.
County Attorney Doug Camacho said Padilla was offered the deal because he was the most cooperative of the six suspects. He said Padilla still faces up to 12 years for his involvement. Padilla will be sentenced after the other cases are finished.
Weitherow was in court Wednesday after his case was amended to include charges that the crime was committed with the intent to promote, further or assist criminal conduct by a street gang. He also faces five felony counts of kidnapping, two counts of burglary, six counts of aggravated assault, three counts of attempted armed robbery, three counts of attempted aggravated robbery, two counts of armed robbery and two counts of aggravated robbery.
The other co-defendants in the case are Patrick Jaye Liewer Jr., Mark Michael McLennan, Christopher Lee Holder, and Neil Murico Cannon, all of Kingman.
Camacho said the March 15 break-ins occurred while Weitherow was on probation. Weitherow spent 10 years in the state prison on two felony charges of armed robbery out of Pima, Ariz. According to the prison, Weitherow's probation expires Sept. 2010.
Weitherow was released from prison on March 8, 2009, one week prior to the break-ins.
Weitherow joked with court deputies before Wednesday's hearing, at one point telling them, "I don't understand why they're treating me like a serial killer." It is unclear to whom he was referring.
Camacho said the remaining four defendants in the case will also face charges of promoting criminal conduct by a street gang. Those charges will be consolidated with the existing cases.
Camacho added that it is unlikely any of the defendants will go to trial this year.