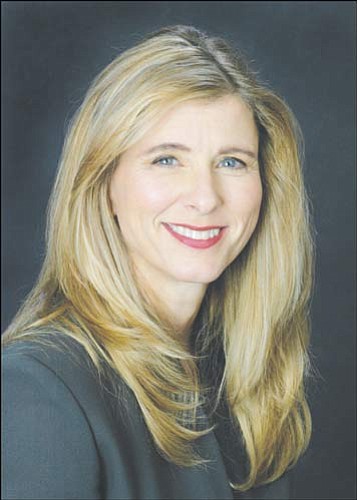 Originally Published: August 16, 2009 7:48 a.m.
KINGMAN - The superintendent of the Arizona Department of Financial Institutions paid a visit to the Kingman area last Saturday. Felecia Rotellini came to town at the behest of the Arizona Escrow Association to help train local escrow officers at implementing best practices and to follow state and federal laws.
With consumer confidence in mortgage lenders and other financial institutions badly shaken over the crises of the past two years, Rotellini said such training has become the cornerstone of her mission to restore public trust in Arizona's financial institutions and to make sure those same institutions never fall into the same predatory lending habits that crippled the housing market to begin with.
"What we've found is, as we've been uncovering mortgage transactions that were illegal, oftentimes they involve distribution of funds outside escrow or outside the settlement services," she said. "Half of our battle these days is knowledge and making sure everyone is aware of the latest type of real estate scheme."
Rotellini said property tax scams, like the official-looking letter that's been circulating around the county this month stating that the recipient's property qualifies for a "property tax reduction review" for a $189 fee, are all too common, especially in recessions like this, when financial matters are never too far from most people's thoughts.
"That type of solicitation that looks like it's from a government agency ... is a very common type of misrepresentation, and you've seen that in the mortgage industry as well," she said. "We're seeing types of solicitations that say if you call this number it looks like you're calling a government agency that will help you with a loan modification or a refinance, and it's actually just a company who thinks they've come up with a great marketing gimmick that will get people to call."
Rotellini said there are a number of red flags consumers should watch out for when approached by a loan modification company. The biggest, she said, is when such a company requests a large advance fee for its services, though there are other telltale tactics to watch out for.
"A lot of these loan modification companies that are not operating legitimately will recommend the borrower stop making their mortgage payments," Rotellini said. In reality, homeowners who are having trouble making their payments should never stop making them, but they should try to use one of the state's several nonprofit loan counseling services. "They can go to our Web site (www.azdfi.gov) and access information on housing counselors that are in Arizona," she said.
Rotellini said most local community banks avoided many of the mistakes made by the nation's larger financial institutions, including offering loans to people who clearly could not afford them. Even so, she said, since Arizona's economy is closely tied to the real estate market, state-chartered banks and credit unions were still profoundly affected by the collapse of home values following the subprime mortgage crisis.
"Our banks are feeling the crunch, the downturn in the economy because of the amount of commercial loans that are nonperforming," Rotellini said. "They have real estate loans where the borrowers can't make their payments, and they're taking a lot of their properties back."
Though she believed local banks will be able to buckle down and pull through the current downturn, Rotellini said one of her goals over the past two years has been to support legislation to crack down on unlicensed and predatory mortgage companies. Her biggest triumph to date has been the passage of Senate Bill 1028 in 2008, which requires all Arizona loan officers undergo the licensing process.
"Our mortgage companies were expanding rapidly and they were abandoning internal controls and quality controls, and quite frankly, it was impossible for the companies to keep track of all the loan officers that were making loans," she said. "If all of our loan officers have to earn the right to have a license, by passing a test, being fingerprinted and having a background check ... those are the people who will be more diligent and more responsible and will treat the consumers with more respect."
Rotellini noted local state Representative Nancy McLain was instrumental in getting the bill passed in the House of Representatives. "Rep. McLain was one of our biggest champions and a cosponsor of that bill," she said. "She's helped us help the industry."
Rotellini acknowledged that there's still a long way to go to fully restore consumers' confidence in lenders, but she maintained that by moving back to the essentials of integrity and accountability, local banks and mortgage brokers are already laying the groundwork for a return to prosperity - and responsible prosperity, at that.
"I'm hopeful the industry will remember these lessons we've learned," she said.
"The best thing we can do for businesses is make sure the consumers feel confident in the businesses they work with; (but) I think we have a lot of work to do on that."