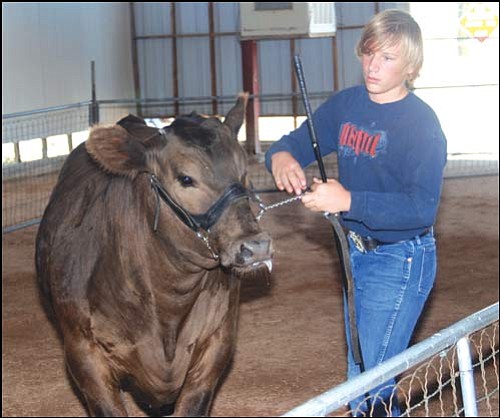 Originally Published: August 17, 2009 6 a.m.
KINGMAN - Austin Bracken is raising his 4H steer, Bad Leroy Brown, the old fashioned way, but his marketing program is decidedly up to date and could even be referred to as high-tech.
The 14-year-old Kingman High freshman's steer tipped the scales at 1,310 pounds at the final weigh-in before the Mohave County Fair and the 4H auction.
"He actually weighed more than I expected him to," Bracken said. "That means he'll more than likely be finished (in time for the county fair, Sept. 10-13). He'll have a nice fat cover over his entire body. You always want a nice fat cover because it flavors your meat."
While he is pleased with the progress of his steer, Bracken is not thrilled with the marketing of the animals the area 4H Club members raise and auction each year and has vowed "to take it to the next level."
He and his mother, Sharon Bracken, hatched a plan while walking in their Walnut Creek neighborhood one afternoon.
"We were thinking of good marketing campaigns and how to get bigger names involved into all these fairs," he said. "Us kids put a lot of time and money into all our projects and sometimes it doesn't work out. We were talking about marketing, but we thought about Donald Trump and 'The Apprentice'. That's marketing. We thought 'How could we get Donald Trump involved?'
"So we talked about how we could take this to the next level and get more people involved," Bracken said. "In the past, we would write about 250 letters every year and we would send them out, sometimes hand-deliver them to some of the bigger people in Kingman. That would get some people out there, but it wasn't enough. It wasn't really bringing out a lot of people. It was just another letter from some kid wanting people to come out and buy his pig or something. It just wasn't doing very well, so we got a new plan."
The Brackens developed and implemented a marketing strategy that combines modern methods with good, old-fashioned salesmanship.
"I have this Web site (www.austinbracken.com). It has all my information, fair schedules, everything you need to know about the auction and 4H and the 4H kids. It has a couple pages on people that helped me out with everything this year. And a brief history on what I have done in 4H," Bracken said. "I'm ordering post cards to send out to business people inviting them to visit my Web site and, hopefully, I can persuade them to go to the fair and actually help out our community kids and this 4H program."
All of the 4H members recruit buyers for the annual auctions and they don't necessarily expect the people they invite to buy their animal. They just hope they bid on one of the animals at the auction.
"You don't know if they even looked at the letter or if they just tore it up and threw it away," Sharon Bracken said. "There were no responses to us out of the 250 letters we sent out. We just don't know what the response from the letters is.
"We're getting away from a plain black and white piece of paper and getting to more colorful, more exciting, more innovative ideas and keeping up with today's technology."
The marketing plan does not simply hinge on the Web site and colorful postcards. The Brackens are targeting their top prospective buyers in a tasty way that will make a special impression. They will be giving away specially labeled bottles of steak sauce.
"I'm going to be meeting with a selected 10 people," Bracken said. "These bottles of steak sauce will be labeled as 'Bad Leroy Brown Steak Sauce.' They will be labeled with his nutrition facts, his sire and dam, the main things people need to know about my steer. So when they go to use this steak sauce they will think, 'This kid came to us and look at the effort he went to for himself, his peers and 4H."
"It is a conversation starter when I sit down and interview prospective buyers," his mother added. "Think of the impact that it makes in first impressions."
Bracken hopes to see more respect and desire for the hand-reared 4H Club animals.
"Us kids all put in a lot of effort to make our animals the best. You get your money's worth," Bracken said.
The 14-month-old Bad Leroy Brown has been the focus of a lot of time and effort for Bracken since he bought him on Dec. 31.
"I've put in nine months of work. I've fed him the top premium feeds on the market - Showmaster feeds. We walk up and down the street. We go through all the stances. We practice on how fast we walk in the show ring," Bracken said. "He has had no injections, no added hormones and no steroids. The day after we purchased him I started my training with him."
By the time of the auction, Bracken's steer will weigh between 1,350 and 1,400 pounds. It will yield about 65 percent grain-fed, organically-raised beef. That can amount to more than 800 pounds of high-grade beef.
The honor roll student, who swims on the school team and will play baseball in the spring, will put the money he earns from the auction to good use.
"My hopes are to at least break a little bit over what I already have invested in him," Bracken said. "Compared to what you can buy in a store, it isn't really that much to ask. You can even go halves on a steer with somebody else. If you don't want a full steer you can buy half a steer.
"If I make a profit it goes to my college fund that I have a savings account for."
The youthful entrepreneur has other plans he hopes to see blossom in the more immediate future.
"Year around I'll be updating my site constantly on new things that are happening," Bracken said. "I'll start a blog with new things I'll do for next year with my steer. Hopefully, we can add some more kids and more species to the site.
"We hope it will really pay off for all the 4H kids in Mohave County."
For more information on Bracken and his 4H projects or information about the Mohave County Fair schedule and auctions, visit his Web site at www.austinbracken.com.