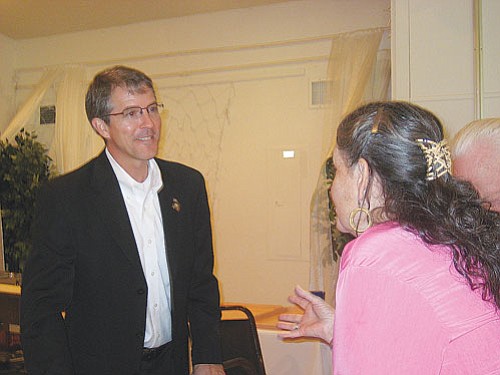 Originally Published: August 18, 2009 6 a.m.
KINGMAN - Chris Simcox started his campaign for Senate this year with a Web site, a new suit and a bank balance of zero.
Simcox, the founder of the Minuteman Civil Defense Corps, said he doesn't need millions of dollars to unseat John McCain as senator in 2010. Simcox said he is running a grassroots campaign from the bottom up that would put the power back into "the hands of the people."
"I've already lost two campaign managers who've said 'You can't run a campaign this way,'" Simcox said.
But Simcox is unapologetic about his distaste for the federal government and said that if elected, he'll work to defend states' rights.
"I work for the people, period," he said.
Simcox visited Mohave County for the first time Monday and spoke to the Kingman Republican Men's Club about his "rejection of the failed policies of the Washington establishment that includes McCain."
Simcox is most well known for his views on illegal immigration. He founded the Civil Homeland Defense group that enlists citizens to help secure the border. On Monday, Simcox said illegal immigration remains a problem.
"You can connect the dots from that border to every one of our budget problems," he said.
Simcox said he is running as a Republican because of the party's platform, but said he feels many in the party have abandoned those beliefs. He intends his candidacy to be a challenge to the status quo.
A former kindergarten teacher in Los Angeles, Simcox said he became an activist after the terrorist attacks on Sept. 11, 2001. He has never held public office, a point of contention for some who heard him speak.
"Am I qualified for the U.S. Senate?" Simcox countered. "All I have to say is Barack Obama and Al Franken."
Simcox's platform of rejecting the "groomed, political elite" seemed to resonate with many in the audience who said they angry with both the Democratic and Republican parties.
Sandi Reynolds said she is frustrated with the federal government and the system the way it is now. She volunteered to serve as an area representative for Simcox's campaign after hearing him speak.
"What good is it to have two parties when they both believe the same thing?" Reynolds said.