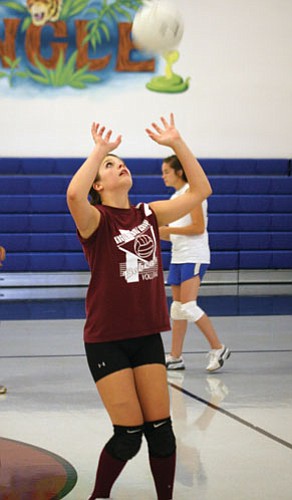 Originally Published: August 18, 2009 6 a.m.
KINGMAN - There was an increase in the number of players vying for a spot on the Kingman Academy High volleyball team, and that made this year's decision about who would make the team more difficult for KAHS coach Heather Amenhauser.
"It was nice to have more go out for the team this year than last year," Amenhauser said. "We only had 12 last year, but we had 18 this year."
Amenhauser went with 10 players on the active roster, and she kept three more for the practice squad.
"That'll give us enough to have 6-on-6 practices," Amenhauser said.
The Tigers can expect Starla Stryker and Jordan Book to lead the team this season. Both looked sharp during tryouts last week.
"Starla is always strong and Jordan looks good," Amenhauser said.
Amenhauser has been able to add an assistant coach to help her this year. Last season, Amenhauser had to carry the full load on her own.
Emily Baker has come in to lend Amenhauser a hand, and Baker already likes what she's seen.
"Being new coming over here, I've already noticed the girls have a good attitude and have good sportsmanship," Baker said. "They are just a bunch of good girls."
Baker says the strength of the team will be the ability to work together. The team passes well, has good servers and the hitters have the potential to be great with more practice.
"If they don't work as a team, forget it," Baker said.
A down note for the Tigers this year is the loss of sophomore Jill Collins. Collins decided to transfer to Kingman High, where she will have to sit out a year before joining the Bulldogs her junior year because of Arizona Interscholastic Association transfer rules. Collins reportedly will be a member of the Bulldogs swim team, which she is eligible for because KAHS does not offer swimming.
"Jill's shoes will be hard to fill," Amenhauser said.
The Tigers have almost two weeks before they compete in the Charter Athletic Association's Fourth Annual Spike It tournament in Phoenix on Aug. 29.