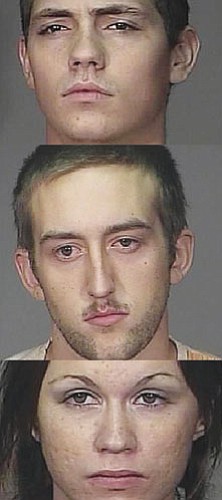 Originally Published: August 19, 2009 6 a.m.
KINGMAN - An anonymous tip led to the arrest of a wanted felon and the discovery of several marijuana plants.
Kurt Louis Oxos Jr., 20, previously wanted on a parole violation and a failure to appear warrant, was arrested Friday on charges of producing marijuana, possession of marijuana, possession of drug paraphernalia and possession of a weapon by a prohibited person.
Deputies with the Mohave County Sheriff's Office found Oxos at a home in the 3500 block of Quail Lane after receiving a tip through the Mohave Silent Witness hotline.
Deputies arrived at the home shortly before 8 p.m. Friday. As a deputy spoke with a female at the front door, deputies covering the rear of the home said they observed Oxos with a gun through a back window.
The two others living in the home at the time were arrested on drug charges after deputies looking for the gun also observed a glass water bong, a plastic bag of marijuana and a planter with several marijuana plants all in plain sight. A 9-mm handgun was found in a bedroom where deputies first observed Oxos.
Dylan Prescott Swint, 20, and Leslie Liza Suttles, 18, were arrested on felony charges of producing marijuana, possession of marijuana and possession of drug paraphernalia.
All three live in the home.
Deputies with Mohave Area General Narcotics Enforcement Team were called to the scene and obtained a search warrant for a further search of their home. According to police, their search yielded two plastic bags of marijuana, numerous marijuana pipes, miscellaneous plastic bags containing marijuana residue and two electric scales.
Oxos' failure to appear warrant stems from an incident in which Oxos, along with Michael David McClellan, is accused of beating a 75-year-old Golden Valley man after the man hired the pair to help move items in his yard.