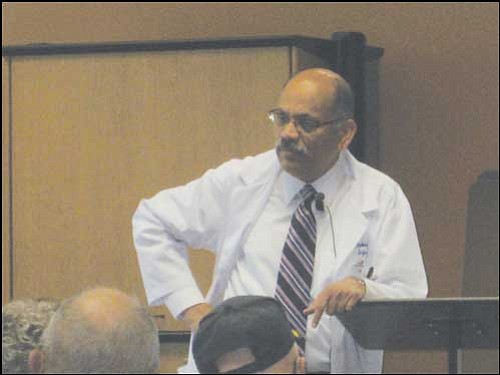 Originally Published: August 20, 2009 6 a.m.
KINGMAN - While local departments are busy making preparations for a possible swine flu pandemic, doctors are urging people to prepare themselves.
Dr. Jakulla Khan, an infectious disease specialist with Kingman Regional Medical Center, said people should make arrangements with their doctor to get both a regular flu shot and a vaccination against the H1N1 virus.
"One doesn't replace the other," Khan said. "You have to get both vaccines."
The government has budgeted an estimated $1.2 billion for flu vaccine purchase and planning. The first doses should be available to the public by the end of September.
H1N, or swine flu, is a mutation of genes from the swine, human and avian flu viruses. Influenza has distinct virus strains specific to different species, Khan said.
"Probably what happened is the pig got all three at the same time and the genes combined to make a new virus," he said. Around 40 percent of the population is expected to contract the H1N1 virus, and for many people, the experience will be similar to that of the regular flu. Unlike the common cold, flu viruses are accompanied by fever and body aches.
Khan said those experiencing additional symptoms, like difficulty breathing or chest pains, should call their doctor or a healthcare provider. Going to the emergency room or a doctor's office will simply infect more people, he said.
As of Aug. 13, more than 7,500 have been hospitalized with the H1N1 virus and 477 people have died. Those numbers, health officials say, are in line with the hospitalization rate for the regular flu virus.
That isn't to minimize the effects a pandemic could have, Khan said.
"Because it is likely to be pervasive, even a mild pandemic can cause major disruption," he said.
He recommended people plan for the repercussions of a pandemic and think about what one would do if there was a shortage of supplies or if medical facilities become overburdened with those seeking treatment.
KRMC is looking at possible visitor restrictions to limit patients' exposure to viruses, including H1N1. Khan recommended people take the same precautions to avoid the swine flu that they would with any other illness: Wash hands frequently, avoid touching one's face, and if an individual is experiencing any symptoms, limit their exposure to other people.
"We don't know exactly what is going to happen, it is unknown," Khan said. "But it's good to be prepared."