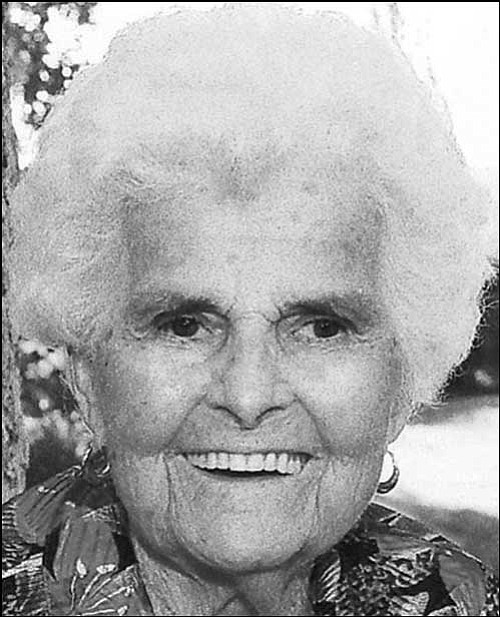 Originally Published: August 27, 2009 6 a.m.
Juanita Cleo Cox Wood, born in Oluster, Okla., May 11, 1913, died Monday, Aug. 24, 2009, at 5 p.m. She married Ernest Wood in Durant, Okla., on Oct. 6, 1932. He died Dec. 20, 1978, in San Bernardino, Calif.
Juanita and Ernest had six children, Ruby Mae Hesterley lives in Portland, Ore. (Happy Valley), J.D. Wood died in San Bernardino, Pauline Allen lives in Kingman, Levearn Adams lives in Bellevue, Idaho, Margaret Hill lives in Kingman, and Paul Wood died in Kingman.
Juanita lived in Kingman with Margaret Hill where she passed away. She has 23 grandchildren (survived by 20), 32 great-grandchildren and 14 great-great-grandchildren. Juanita was preceded in death by her mother, Mattie Cox; her father, "Doc" Franklin Cox; her two brothers, Otis and J.C. Cox; and two sisters, Inez Scroggins and Pauline Spruell.
She lived in Hugo, Okla., until 1952 when she and her family moved to San Bernardino. After Ernest died, Margaret moved to Kingman, and it wasn't long until Juanita moved to Kingman to be near her family.
There will be a service in Kingman on Saturday, Aug. 29, at College Park Baptist Church, 1990 Jagerson Ave. The viewing will be from 10 to 11 a.m. and the funeral service begins at 11. After the service, she will be taken to San Bernardino to be buried beside Ernest Wood and her mother, Mattie Cox.
More like this story