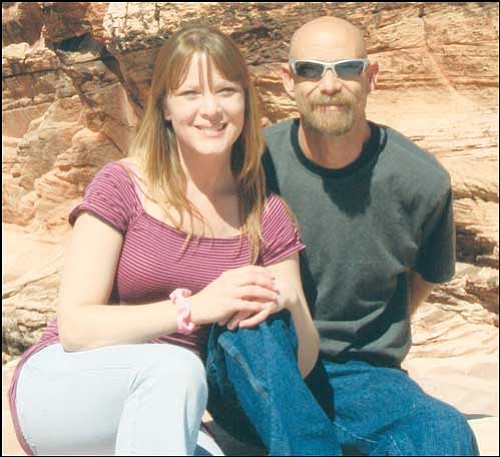 Originally Published: August 30, 2009 6 a.m.
KINGMAN - About this time last year, the Miner ran a feature story on Nancy Daly, a photo portraitist who left the confines of big box superstores to strike out on her own as an artist and entrepreneur.
Now, the Daly Photography photo studio at 1505 Northern Ave. is looking forward to celebrating its first anniversary in business. But while Daly has managed to persevere in spite of the economic downturn, expanding her clientele base and securing multiple contracts with local day care centers, her one-year anniversary will nevertheless be a bittersweet occasion.
That's because Daly's husband and business partner, Terry, has been steadily getting weaker and sicker, and nobody knows why.
"The doctors have taken muscle biopsies, they've taken bone biopsies, they've taken nerve biopsies," Daly said. "They're running him through the mill to get any type of diagnosis they can."
When she first met him seven years ago, Daly said Terry had issues with balance and would suffer from the occasional seizure, but was otherwise healthy. It wasn't until after the two married in 2004 that his seizures started getting worse, his motor skills began leaving him, and his muscles started to noticeably atrophy.
"As time went on, he started falling ... he loved to do yard work, and he would come in all lethargic," Daly said. "Now, he can barely even walk on his own without falling, and his symptoms have just gotten worse and worse."
Toward the end of 2005, Daly said Terry was diagnosed with multiple sclerosis, a disease where the body's immune system attacks the brain and spinal cord, with accompanying spasticity, which is the inability for muscles to regulate themselves. It was a grim prognosis, with no known cure, but Daly said Terry's spirits remained high, and he began taking medications to manage his symptoms.
But they didn't work.
"He was on the medications, the shots every week, and it was funny because it didn't seem like it was doing anything," Daly said. "I started doubting at first that he may not have (MS), because I did a lot of research online and thought 'What if he has something else, and he's taking all this medication for something he doesn't have?'"
The Dalys started going to multiple doctors, hoping to get some kind of answer as to what was really afflicting Terry. But the answer seemed to vary from doctor to doctor, with some asserting that he did, in fact, have MS, while others speculated it might be any of a number of other neurological disorders, from Parkinson's disease to dystonia.
"Some doctors were like 'Yeah you have it,' while others were like 'No, you don't,'" Daly said.
Terry started regularly visiting the Barrow Neurological Institute at St. Joseph's Hospital in Phoenix, where doctors were able to start running extensive tests on him to narrow down exactly what he might have. Daly said the process can sometime be extremely frustrating since many neuromuscular symptoms are the same from one disorder to the next.
"They were looking at Parkinson's and they had ruled that out," Daly said. "He may still have a type of muscular dystrophy, but we don't know that yet. They just have to keep testing and testing and rule this out and that out until they come up with something."
Daly said one doctor has begun to speculate that Terry may have an extremely rare disorder shared by only 33 other people on the planet. She said the doctors want to conduct tests to determine whether or not that's the case, but Terry was recently transferred to a different hospital due to a lack of available bed space at St. Joseph's.
"He's been really, really sick, so they flew him back out to a different hospital (Wednesday) night," she said. "He's just so tired and he has such a hard time. It's a long, drawn out process, especially if it's something rare, like in Terry's case."
Daly said rare disorders face the dual problem of being both poorly understood and poorly funded for new research, due to lack of public exposure compared to more high-profile diseases such as Parkinson's or cancer. For that reason, she said, she plans to turn her studio's one-year anniversary into a fundraiser specifically to go toward neurological research, in hopes of one day helping someone in her husband's position.
From noon to 4 p.m. on Saturday Daly Photography will be open to the public, with raffle tickets for sale, a coloring contest for children, and a collection of information for those Kingmanites who, like Daly, have had to cope with the pain of a neurological disorder.
"We're going to have some brochures here that explain different neurological diseases, and we're going to have a sign-up sheet for people going through similar circumstances," she said. "There's just so many sick people out there, I know so many just here in town who have Parkinsons, MS, stroke patients."
Since she started planning the event Daly has been receiving donated raffle prizes from businesses throughout the community, including gift certificates to Golden Corral and IHOP, $200 worth of free car washes at Wash Me!, a $100 gift basket from Fergie's Hair & Nails, and a free month's membership at Curves fitness.
"I am getting such a big response from the community," Daly said. "People are donating all kinds of things for us to raffle off."
Raffle tickets are $4 apiece or $12 for four. All proceeds will be donated to the National Institute of Neurological Disorders and Stroke, a section of the National Institute of Health whose mission is "to reduce the burden of neurological disease" through collecting, coordinating and guiding research on its causes, prevention, diagnosis and treatment.
For those who are either not interested in the raffle, or who want to donate an exact amount, Daly said she is also accepting checks made out to the institute. In the meantime, she said she remains hopeful that Terry is well enough this week to make it back to Kingman and take part in the festivities.
"He's really trying to make it to where he can be here," she said. "We have to figure out what he has."
For more information on Daly Photography's combination one-year anniversary and fundraiser, call Daly at (928) 757-2550 or e-mail her at dalyphoto@yahoo.com