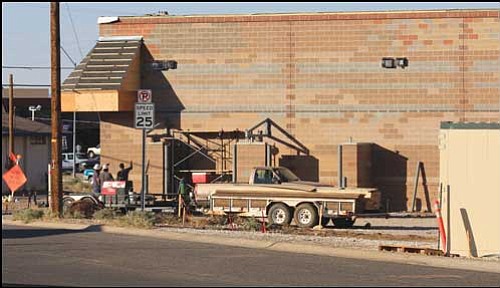 Originally Published: August 31, 2009 6 a.m.
KINGMAN - One of the city's most trafficked intersections will be subject to a lane closure over the next several weeks.
The outside lane of westbound Andy Devine Avenue just east and west of the intersection with Stockton Hill Road will close for construction starting at 6:30 p.m. today and lasting through 5 p.m. Sept. 18.
During those three weeks, the lane closure will last around the clock during the workweek, though the lane will be reopened to traffic from 5 p.m. Friday evenings to 6:30 a.m. Monday mornings.
According to Assistant City Engineer Mike Prior, the lane closure is to accommodate construction of a right turn lane into the new Walgreens site at the corner of Stockton Hill and Andy Devine. "They have to remove the existing curb and replace it with a valley gutter," Prior said. "There'll be a 12-inch drop off there, so we want to keep traffic off that area until they're finished."
While the Engineering Department is officially estimating the construction time at three weeks, Prior said the hope is that on-site contractors will finish the work within a week and a half. "We normally go by worst-case scenario, and if it does open sooner, then great," he said.
Prior added that the construction work is similar to that performed earlier this year at the site of Kingman's first CVS Pharmacy store at the corner of Stockton Hill and Airway Avenue. While the the construction will slow down westbound traffic on And Devine, Prior said he did not expect the roadwork to cause any major delays.
"It is a heavily used area, but it's not so congested that this would impact the traveling public greatly," he said. "I don't foresee long amounts of traffic being delayed by this."
Even so, engineering staff is advising travelers to seek alternate routes if they can. Any further questions can be directed to (928) 753-8122.
According to Walgreens spokeswoman Vivika Vergara, the new Walgreens store should be completed in the next several months, with an anticipated opening in early 2010.