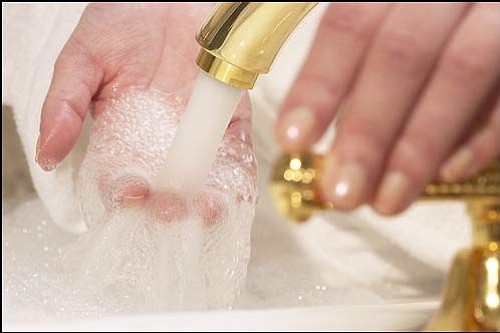 Originally Published: December 1, 2009 6 a.m.
KINGMAN - With city sewer rates set to double next year, customers in the Kingman water system are being urged to conserve as much as they can over the next three months, since that usage will determine their bills for the rest of the year.
According to city Financial Services Director Coral Loyd, residential sewer bills for the year are based on the amount of water used during the months of December, January and February. That's because winter is typically the season where water use bottoms out - fewer people are washing their cars or watering their lawns.
Since the city has no sewer meters, and since most winter water usage is confined to daily household functions, the city relies on winter usage as the most reliable way of estimating how much sewage a typical home can be expected to generate every month.
"It's using your winter bills as your base for the remainder of the year," Loyd said. "So in the summer, when your water use is highest, we will bill the lower of either your winter quarter average, or your actual use."
In other words, the less water you use now, the more you'll save on your sewer bill in July and August. Loyd said the current average winter usage for residential is 6,150 gallons per month, which comes to a monthly sewer bill of $32.07 after the new rates take effect in January. But for every 1,000 gallons saved each month, Loyd said that bill would drop by $2.90.
Kingmanites have already cut back on their winter usage significantly over the past several years. According to Loyd, average quarterly usage has dropped nearly a thousand gallons from 2005 levels.
"The average in 2005 was about 7,000 gallons, and now it's just over six, so people actually are putting conservation into play, and that's helping the customer over all," she said.
But all the same, Loyd said only about 60 percent of Kingman residents fall into the average monthly range of 5,000 to 7,000 gallons. Of the remainder, about 10 percent use fewer than 5,000 gallons a month, comprising mostly elderly and single-family households.
Another 30 percent use more than 7,000 gallons a month, and in some cases exceed 9,000 gallons. It is these households, Loyd said, that have the biggest potential to save money over the coming year.
Both water and sewer rates are set to rise Jan. 1, though water is set to rise more gradually over the next several years, while the sewer rate increases have been more drastic. The rate increases are the result of a study conducted in 2008 to determine how the city will pay for several crucial water and wastewater infrastructure projects it must put into place.
Loyd noted that, if many of the city's higher-usage households were to drastically cut back their water usage over the next three months, it could potentially disrupt the city's existing payment plan and force it to reevaluate the rates yet again. On the other hand, she added, it would also reduce the city's overall water and sewer costs, freeing up additional funds to make its payments.
"The less water we have to pump and the less sewage we have to treat, the lower our overall operating costs," she said. But more than just the impact to the city, she said, conserving water was "just the right thing to do."
In the coming month, the Finance Department is expected to mail out conservation tips to its water customers, listing the per-minute usage for various household appliances (a shower, for example, uses 5 to 10 gallons per minute, while a toilet uses three and a sink two to three) and urging common-sense habits such as checking for leaks in pipes and faucets, turning off the water when shaving or brushing your teeth, and using the dishwasher only on full loads.
For more information on monthly water and sewer billing, call the city billing department at (928) 753-5561 and press 1 at each prompt.