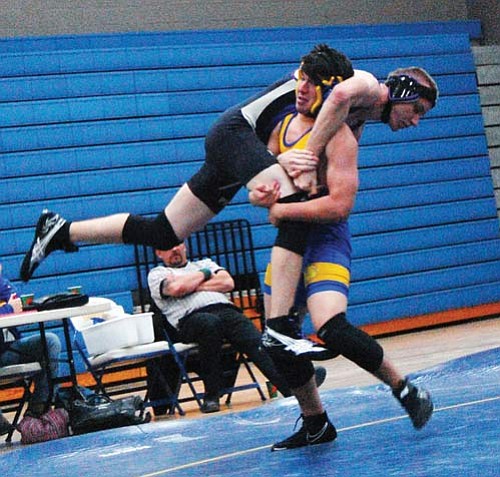 Originally Published: December 11, 2009 6 a.m.
KINGMAN - It was another down-to-the-wire meet for the Kingman High wrestling team Wednesday at KHS. Again, the Bulldogs fell short in the final match, as Surprise Valley Vista snuck past KHS 42-37 in a contest between Northwest Region teams.
KHS (2-9) lost to Goodyear Millennium 37-36 Dec. 1 in Kingman when the eighth tiebreaker was used to give the Tigers the win.
The Bulldogs led Valley Vista Wednesday 37-36 when KHS heavyweight Alex Henry took the mat in the final match. Henry was pinned in 33 seconds, and the Monsoon had the victory.
"It was Alex's first varsity match," KHS coach Brandon Clor said. "It's hard to have the match (meet) on your head in your very first match."
KHS trailed 24-0 due to three pins and a forfeit before Kevin Davies at 130 pounds got things going in the right direction for the Bulldogs. Davies secured a pin in 1:20 to earn six points.
William Bibbus (135) backed up Davies with a pin in 5:42, and Thomas Canez (140) earned a four-point, 19-7 decision over Levi Robertson. Canez had seven takedowns and two near falls but couldn't pin Robertson.
"He kept scooting out of bounds, and I couldn't get him back in," Canez said. "I was able to grab his leg, suck him in and take him down."
Patrick Sides (145) won by forfeit for KHS, and the Bulldogs had closed the gap to 24-22. However, freshman Jerame Perkins (152) was pinned by Valley Vista to increase the Monsoon's lead, 30-22.
Brett Nailor (160) orchestrated a stunning turnaround for the Bulldogs with a 1:49 pin of Steven Arndt. Nailor trailed 5-0 when he scored on a reversal before ending the match.
"Last year, this guy caught me in a cradle, and he almost did it again," Nailor said. "I gave it all I had because it wasn't going to happen again. It feels good to get a little revenge."
After Valley Vista scored six more points when Andrew Leyva (171) was pinned, the Bulldogs pulled back to within two, 36-34, when Jeremy Alder (189) won by forfeit.
KHS took its first and only lead of the night, 37-36, when Keith Milkie (215) scored three points in a 10-3 decision over Valley Vista's Ryan Kerb. Milkie has begun the season 10-2, including second place with a 7-2 record at the Lake Havasu Invitational last weekend.
"That Valley Vista kid pinned Keith twice last year," Clor said. "It bodes well to get him into state."
KHS went 1-7 at the Havasu tournament. Bibbus went 7-2 at the tournament to finish third, and Leyva's 4-5 record there earned him fourth.
"We'll be all right," Clor said. "But we do have to fix our lower weights."
The Bulldogs compete in the Buckeye Invitational Dec. 18-19.