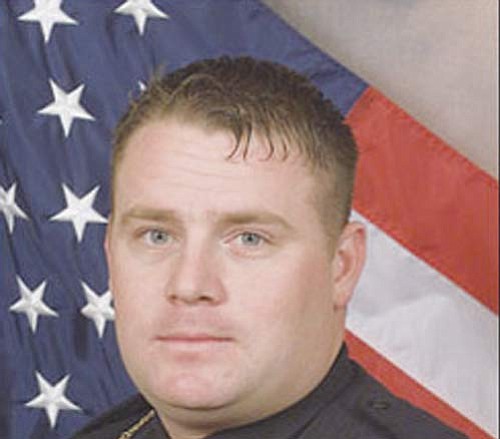 Originally Published: December 11, 2009 6 a.m.
KINGMAN - The officer who was fired from the Kingman Police Department for allegedly violating the department's drug policy said the pain medication he was prescribed after being shot took over his life.
Tim Sparr says he has not taken any of the narcotic pain medication prescribed to him since an incident Nov. 10 in which he was suspected of driving under the influence. He credits the city's actions with helping him get off the medication.
"I'm not mad at the city," he said. "They did what they had to do."
Sparr, 29, was prescribed oxycodone and two other sleep medications after being wounded in the line of duty. He was shot after he and Sgt. Mark Chastain responded to a domestic disturbance Aug. 2. Holly Anderson-Mack, a 26-year-old probation officer, had just handed her infant off to the officers at the front door when Mack's ex-husband, Brad Anderson, shot her in the head. The same bullet that killed Mack struck Sparr in his left arm.
Sparr had gone through a medical clearance before returning to active duty Oct. 19. He had been on paid medical leave for those 2-1/2 months. Sparr said he needed to return to work to get back to a regular routine and thought he could wean himself off of the pills.
Sparr, who said he had never used narcotic pain medication before, said he first used the pills because of the pain. As his tolerance increased, so did his dosage.
"The medication pretty much took control of my life," he said.
Sparr acknowledged that he had a problem, but said that he only took the pills before going to sleep or when he was off duty.
Documents obtained by the Miner following a public information request detail the violations that led to Sparr's termination, including the allegation that he drove under the influence of medication while returning from a construction detail at the Hoover Dam.
The documents also allege that Sparr ignored repeated warnings to remove a convicted felon from his home.
Sgt. Bob Fisk, public information officer for the department, said officers within the department who knew Sparr well had noticed a change in his behavior several months before he was shot. Fisk added that those changes in his personality did not compromise the integrity of his work but that the department had to take action when Sparr's behavior constituted a public risk.
On. Nov. 9, Sparr and another officer were scheduled to work a construction traffic detail on Highway 93 near the Hoover Dam. The police department contracts with the construction company to provide assistance. The work is independent of an officer's duties with the department. Officers wear their uniforms and use their police cruiser while working the detail, but they are paid by the construction company and are reimbursed for mileage.
A report written by an officer indicates that he was concerned by Sparr's behavior prior to leaving Kingman for the detail.
Several superiors were on their way to speak with Sparr while he worked the same traffic detail Nov. 10 when they saw Sparr's marked police unit traveling southbound on Highway 93 at a high rate of speed. The report indicates that the officials were traveling more than 100 miles an hour but were unable to catch up to Sparr's unit.
Contact was eventually made with Sparr via telephone and he was stopped on the side of the road when the officials pulled up. They removed Sparr's weapons from his possession and found more than 40 prescription pills in a candy tin in his pocket.
Sparr was then taken to a Department of Public Safety office where police initiated an investigation into whether Sparr was driving under the influence.
A urine and follicle screening found that Sparr was under the influence of three medications. The names of those medications were redacted from the released documents.
DPS is now conducting an investigation into the DUI allegations, for which Sparr could still face charges.
"We feel bad for Tim," Fisk said. "Everybody likes Tim. It's unfortunate, but we have to do what we have to do to take care of business."
Sparr, who contends that he only took the medication when he was off- duty, acknowledges that he had a problem with the pills and said that while it may have changed his personality, it did not compromise his work as a police officer.
Sparr, the father of three children, had been going through a divorce in the year leading up to being shot. He also was the first officer on scene after 18-year-old Ariel Allison was killed and her mother critically injured July 4, and had been one of the arresting officers when Darrell Ketchner, the suspect in the case, was found the next morning.
Sparr was also one of the officers who entered a burning home in March after it had been set on fire by one of the suspects in a series of home invasions.
Sparr, who served in Operation Iraqi Freedom during his four years in the Marines, said he knew he would be in stressful situations as a police officer. Before joining the Kingman Police Department, Sparr served as a deputy for two years with the Mohave County Sheriff's Office.
But Sparr said everything changed when he was shot.
"There was just so much happening, it all snowballed," he said.
"When you get shot, you start to see things differently. It makes you feel not invincible like we were taught to feel in the Marines."
In addition to the alleged drug violations, officials say Sparr violated department policy by allowing a convicted felon to live in his home. Reports indicate that the individual is a known drug user who was still involved in criminal activity while living in Sparr's home.
Sparr's superiors learned that the individual was still staying in the home despite repeated warnings to Sparr.
Sparr said the man had been staying in his home off-and-on for about three weeks. He said he was trying to help the man get off the streets.
"He needed a fresh start," Sparr said. "I said that there were no drugs allowed in the house."
Sparr calls recent events "a lesson learned in life" and said he intends to stay off of the medication.
"I'll just slow down a bit and take things one step at a time," he said.
More like this story