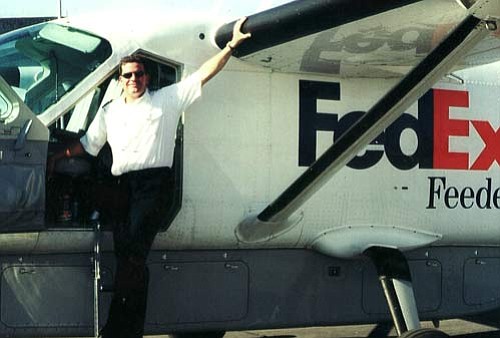 Originally Published: December 11, 2009 6 a.m.
Our son, Shawn Michael Sheble, died on Friday, Nov. 27, 2009, in Shanghai, China, while flying for Avient Aviation. He was born on Sept. 22, 1971, in Blythe, Calif. Shaun was raised in Blythe. He attended Ruth Brown Elementary, Margaret White Middle School, Blythe Junior High School and graduated from Palo Verde High School in 1989.
He served aboard the Nimitz Aircraft Carrier during Desert Storm as a deck crewman and spent six months in the Persian Gulf. He started his aviation career in Blythe with his father and soloed a C-172 at the age of 16. He became a private pilot at 17. He worked for Sheble Aviation building hours and becoming a flight instructor. He went to work flying Caravans for Fed-Ex, flying the Sierra Nevada Mountains and the Owens Valley. He moved on to BE-99s with Air Vegas, flying tours to the Grand Canyon. Advancing still further, he worked for Pace Airlines out of Laughlin, Nev., flying 737s. He ventured into Fire Bombing in 2001 and went to work for Hawkins and Powers in Wyoming and was rated in the PB4Y-2 and the KC-97 until he was furloughed in 2002.
He came home and worked for his brother at Sheble Aviation, flying seaplanes up and down the Colorado River between career advancements. In 2006, he was hired by Gemini Air Cargo and rated in the MD-11. He made first officer and flew air cargo from Europe to Africa until the company dissolved in 2008.
In August of 2008, he was one of 16 pilots interviewed and eventually hired by Avient Aviation to fly air cargo from Europe to Africa and Asia.
Shaun bought a home in Kingman to be closer to family and live in a small community again.
Shaun was on his first full schedule with Avient Aviation at the time of his death. He had friends worldwide and never met a person who he couldn't call friend. His friends were his lifeline and meant so much to him. He had a life full of adventure and much love for his family.
He leaves behind his parents, Joe and Theresa Sheble of Kingman; his brother, Jo-Jo and sister-in-law Valerie; and his nephews that he loved so much, Joseph and Jacob of Bullhead City. He also leaves Pat and Nancy Wolfe of Blythe, Debbie and Bradd Harding and Amanda of Las Vegas; his aunt and uncle, Rogena and Ron Coberly with cousins, Shawna (Troy) Krepps and Jennifer (Henry) McDougal of San Antonio.
The desert and river were special places to Shaun where he grew up in Blythe and had recently re-established friendships at his 20-year class reunion. Shaun leaves the best friend he ever had, his father. Shaun will always be remembered by that great smile and his zest for life. He now will become the wind beneath the wings that his father and brother fly and the wind that will guide Joseph and Jacob to future achievements.
A celebration of life will be held at 11 a.m., Saturday, Dec. 12, at Mohave Valley United Methodist Church, 1593 Lipan Blvd., Fort Mohave.
A funeral Mass will be held at a later date at Trinity Episcopal Church, 425 E. Spring St., Kingman, with Father Philip Shaw officiating.