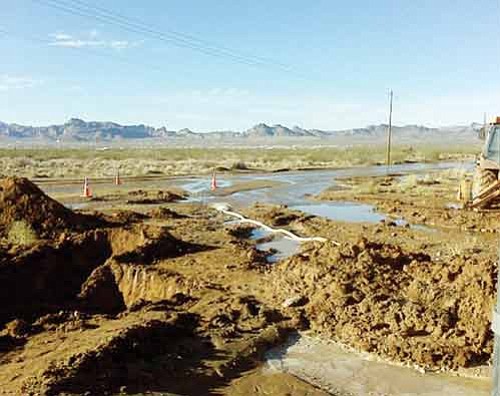 Originally Published: December 20, 2009 6 a.m.
GOLDEN VALLEY - It probably took a little longer than usual for residents along Chino Drive west of Teddy Roosevelt to get ready for work Friday morning.
A six-inch water line connecting an inactive well to the Chino Drive water main broke Thursday afternoon, sending water about one to two inches deep flowing across Chino Drive and dropping the water pressure to about 24 homes in the area, according to the County Public Works Department.
The amount of water flowing from the break was reduced but not completely stopped by about 10:30 a.m. Friday. Repair crews had a hard time finding a shutoff valve near the leak, said Public Works Director Steve Latoski.
At about 12:45 p.m., water was shut off to about 26 properties along Chino Drive between Teddy Roosevelt and North Davis Road while crews attempted to pump water out of the area. It is currently unknown how much water was lost.
A contractor with heavy-duty pumps and other equipment was hired by the county to find the leak and make the repairs, Latoski said. The county does have equipment to handle a normal water line break, but because of the saturated soil and the amount of water in the area, special heavy-duty trenching and pumping equipment that the county does not have was needed, he said.
The leak was fixed, a new shutoff valve installed and full water pressure was restored by Friday evening.
It is currently unknown how much the repairs cost.