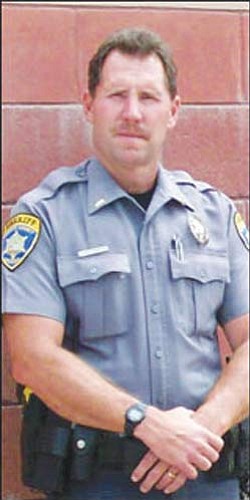 Originally Published: December 30, 2009 6 a.m.
KINGMAN - A lieutenant with the Mohave County Sheriff's Office is on administrative leave after he was arrested for domestic violence earlier this week.
Lt. Ron Weber was arrested Monday following an incident Sunday evening in which it is alleged he committed an act of domestic violence by assault against his wife, a detective with the Kingman Police Department.
The criminal complaint is being handled by the Lake Havasu Police Department because of Weber and the victim's connection to local law enforcement.
Sgt. Joe Harrold with the Lake Havasu Police Department said he was unable to provide details of the incident because witness interviews are still being conducted. Harrold said Weber was taken into custody around 4 p.m. Monday at the Kingman Police Department, but he declined to give specifics of the arrest.
Weber was subsequently booked into the Mohave County Jail. Charges were filed Tuesday in the Kingman Municipal Court.
Trish Carter, spokesperson for the Sheriff's Office, said that the incident is under review by both the Sheriff's Office and the Mohave County Human Resources division. The Sheriff's Office is also conducting its own internal investigation.
Weber will remain on administrative leave pending the completion of the investigation, at which time a decision on his status with the agency will be made, Carter said. Weber is a 22-year veteran of the Sheriff's Office. He has served as lieutenant for a little more than a year.