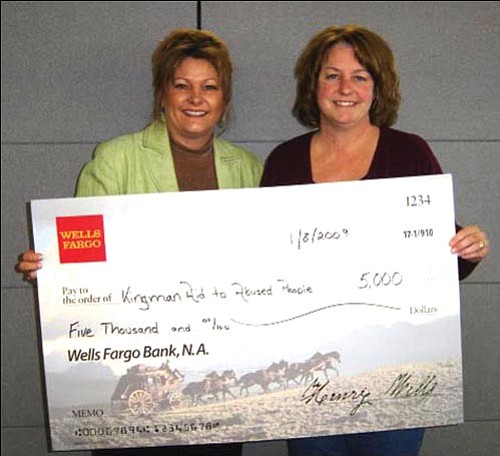 Originally Published: February 1, 2009 6 a.m.
KINGMAN - Wells Fargo Community Banking in Kingman has donated $5,000 to Kingman Aid to Abused People. The donation will be used to provide safe shelter, counseling, advocacy, a 24-hour crisis hotline, information and referrals for victims of domestic violence.
"At Wells Fargo, we know that our company is only as strong as the communities we serve," said Misty Howell, president for Wells Fargo's Community Banking in Mohave and La Paz counties. "With the economy in its current condition, donations have declined, while the shelter has experienced an increase in requests for its services. We are delighted to donate in an effort to sustain their level of services during this critical economic time."
"On behalf of KAAP's board of directors, staff and the people that we serve, we sincerely thank Wells Fargo for this outstanding donation and overwhelming support in the effort to provide safe haven to victims of domestic violence and meet the growing demands of our community," said KAAP Executive Director Suzanne Clarke.
KAAP has served Kingman and the surrounding area since 1985.