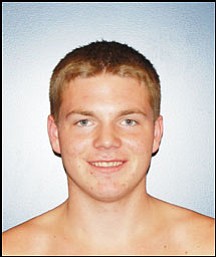 Originally Published: February 2, 2009 6 a.m.
KINGMAN - Heading into Friday's game in Queen Creek against EVAC and Saturday's game at home against Mesa Sequoia, the Kingman Academy boys basketball team would have been satisfied with a split. Instead, the Tigers made a statement to the Charter Athletic Association that they are on the rise after winning both nail-biters.
The first 3-1/2 quarters saw the KAHS (11-6, 9-2) discipline outplay Sequoia's quickness and athleticism. After leading by four, 31-27, at the half, the Tigers built up a 13-point lead with 5:09 left in the third quarter. However, Sequoia (4-6) outscored KAHS 13-6 the rest of the quarter to bring it back to six entering the fourth, 49-43.
"Basketball karma got us when we took the first open three," KAHS coach Kevin Morgan said. "We should have continued running our stuff for the shot."
The Tigers were up by seven with 4:13 left when KAHS decided to try to take on Sequoia in its game. The Stallions looked like they would be able to complete a comeback, as the Tigers went up-tempo rather than their typical style of methodically getting open shots.
"At the end we tried to run and gun with them," said junior Taylor Hastings. "But that didn't work."
Morgan was demonstratively displeased with the Tigers at that point. He called a timeout with 1:41 left and KAHS clunging to a 61-59 lead, and called out his players by slamming his clipboard. Morgan won't be using that clipboard anymore.
"That was a good one, too," Morgan said. "It was one of my favorites."
KAHS' Austin Mousley hit a free throw with 15 seconds left to put the Tigers up by three, 64-61, and the Stallions were unable to make a basket in the final seconds.
Hastings poured in more than half of the Tigers' points, finishing with 33 in an unselfish performance. Hastings took advantage of his opportunities and never forced a shot.
"We sent it down low, and they couldn't guard anyone," Hastings said. "We picked them apart. We live down in the post."
Morgan said he saw early on Hastings was going to be the man.
"I know when he's attacking the rim, he's on his game," Morgan said.
Mat Higuera added 9 for KAHS, Brandon Howard had 5, Mousley 4, Cordel Benson 3 and Garrett Meyers 2.
It was Meyers who saved the Tigers in Friday's 54-52 win over EVAC (10-3). The freshman scored 10 of KAHS' final 18 points and preserved the victory with a defensive stop in the last two seconds, as the Tigers beat the Eagles for the second time this season.
KAHS travels to Quartzsite to take on the Scholars Stars (3-4) on Tuesday in a North League matchup.