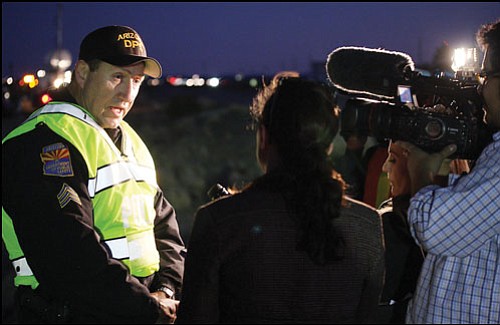 Originally Published: February 4, 2009 6 a.m.
KINGMAN - Investigators believe the driver of a tour bus that rolled over on U.S. Highway 93 Friday afternoon may have been distracted by something.
The Associated Press is listing the driver, Han Dong of Rosemead, Calif., in fair condition at University Medical Center in Las Vegas.
The Las Vegas Review Journal is reporting that a passenger on the bus told attorney Robert Murdock that the door of the bus was ajar and the driver tried to close the door before he lost control.
Detectives from the Arizona Department of Public Safety Vehicle Crime Unit and investigators from The National Transportation Safety Board believe the bus was traveling northbound when the driver became distracted and lost control of the bus.
The bus traveled off the edge of the roadway, then the driver overcorrected, causing the bus to cross the northbound travel lanes and then off the roadway and onto the dirt shoulder. The driver then overcorrected again and the bus traveled back across the northbound lanes into the center median and then onto the southbound lanes, where it rolled over once and came to a rest.
According to DPS, investigators do not believe the driver was impaired at the time. They also do not suspect any criminal involvement in the case. The case is still under investigation.
At least six people were pronounced dead at the scene of the accident. A seventh person died at UMC. DPS is not releasing the names of the victims at the request of the Chinese Consulate.
One person was transported and admitted to Kingman Regional Medical Center. The rest, including the driver, were transported to Las Vegas.
One of the injured includes an 8-year-old boy who was admitted and later released from a hospital in Las Vegas.
According to DPS, the bus was returning from a trip to the West Rim of the Grand Canyon when the accident occurred. D.W. Tours out of San Gabriel, Calif., operates the bus.
The AP is also reporting that the California Public Utilities Commission fined the company that owns the bus, D.W. Tours, in October for hiring an unlicensed bus outfit as a subcarrier.
The company owns two buses and employs four drivers. The National Transportation Safety Board lists the company as satisfactory. A full review of the company by the NTSB is now planned, according to the AP.