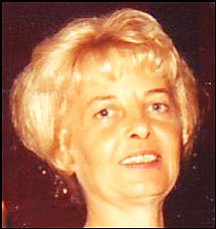 Originally Published: February 4, 2009 6 a.m.
JoAnne Allee died Friday, Jan. 30, 2009, in her home in Kingman. She was born Feb. 3, 1932, in Brainerd, Minn. She is survived by her husband, Eugene Allee; her daughter, Kelley Fogarty Paystrup (Dan); her son, Bryan Fogarty (Maureen); her brother, Richard Ebinger; her step-daughters, Claudeia, Debbie and Cindy Allee; her grandchildren and other relatives; and many close and dear friends. She was preceded in death by her parents, Dora Albers and Cyril Ebinger.
She married Wilfred (Bill) Fogarty in April, 1955, in Los Angeles. They divorced 20 years later. She married Eugene Allee on Sept. 1, 1979.
JoAnne was a long time resident of Brea, Calif., raising her family there. She was actively involved in the St. Angela parish and worked as a media specialist in the Fullerton School District. Even while working three part-time jobs as a single mother, her love for others showed as she was a member of the Third Order of St. Francis and helped them sponsor Laotian refugee families after the Vietnam War.
She moved to Kingman in 1994 and was a regular worshipper at St. Mary's Roman Catholic Church. She was an active participant in poetry workshops, and a life-long learner. She loved playing Scrabble and participated in any game with energetic competition. She loved graham crackers with peanut butter - and almost anything else with peanut butter. She will be remembered for her love and generosity, her sense of fun, and her loyalty to friends and family.
Services will be Saturday, Feb. 7, at St. Mary's in Kingman. Rosary will be at 9:30 a.m. and the memorial service at 10. Interment will be at Memory Gardens in Brea, Calif., at a later date.