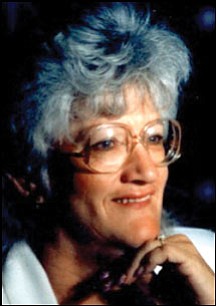 Originally Published: February 5, 2009 6 a.m.
Madelyn (Fisher) Burch, 63, of Dolan Springs, formerly of Adrian, Mich., passed away Tuesday, Jan. 27, 2009, in Dolan Springs.
She was born April 13, 1945, in North Shields, England, to Harry and Winifred (Donkin) Fisher. She married Jerry Burch in 1981 and they divorced in 2003. Madelyn came to the United States around 1947 and lived most of her life in the Adrian area. In December 2003, she moved to Dolan Springs to be near her sons. She was a member of the Church of Jesus Christ of Latter-day Saints in Dolan Springs.
Madelyn's survivors include one brother, Michael (Laura) Fisher of Adrian; three children, Melvin Lynn Beach Jr. of Dolan Springs, Marvin (Melody) Beach of Dolan Springs and her daughter, Katherine Michele Burch of Nevada; two nieces, Teresa Ann Fisher of Frankfort, Mich., and Amanda Lynn Fisher of Adrian; and three grandchildren, Desra Ann Clark, Merrill Chase Beach and Shayla Lynne Beach of Dolan Springs.
She is also survived by one dear and close friend, Becky Gilson and her son, Noah of Morenci, Mich. She was preceded in death by her parents, Harry and Winifred Fisher, and a niece, Kimberly Dawn Fisher.
As per Madelyn's wishes, her body has been donated to science, and at a later date, cremation will take place. She will be buried in Adrian in the Fisher Family plot.
A memorial service will be held at 2 p.m. on Saturday, Feb. 7, at the Church of Jesus Christ of Latter-day Saints in Dolan Springs.
More like this story