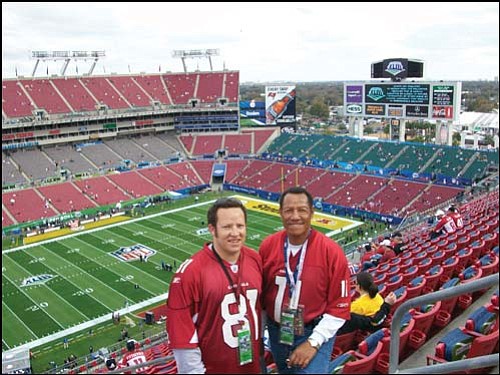 Originally Published: February 6, 2009 6 a.m.
Any NFL commentator will tell you the road to the Super Bowl begins well before the actual game. It's the same for the fans of the teams.
I joined my father for the trip to Tampa, Fla., for Super Bowl XLIII between the Arizona Cardinals and the Pittsburgh Steelers.
Flying out of Sky Harbor Airport in Phoenix, I had optimism the Cardinals' fans would come out in full force and it wouldn't be "Steelers' country" as predicted. Who could blame me? The flight was practically full of Arizona fans, with a handful of misguided Pittsburgh supporters.
Even when we had a stop in Houston, only a few more Steelers' fans got onto the plane for the short flight to Tampa.
All my hopes and optimism were quickly dashed when we stepped out of the tunnel at Tampa International Airport. We were no longer the majority.
Teaming with Steelers' fan, the scene reminded me of an infestation. My outlook continued to drop on the drive to the hotel where vehicles with Pennsylvania license plates and rental cars adorned with Steelers' flags made traffic jams even more unbearable.
As for the city of Tampa, I was rather unimpressed. Like last year's Super Bowl in Glendale, most pre-Super Bowl activities were well away from the city.
A drive around downtown on Saturday night found the only activity to be comedy fans heading to see a performance by Dane Cook.
Had it not been for Phoenix news reports leading up to the Super Bowl, my father and I would have had no idea what to do on the eve of the biggest sporting event in our football lifetimes. We headed out to the "official headquarters for Arizona Cardinals' fans" in Tampa - Wings Gone Wild.
It was at Wings Gone Wild that I realized diehard Cardinals' fans may be few, but we're loud and we're proud.
With that emotion and general excitement, I woke Sunday with renewed optimism. Today is going to be our day, I thought.
By banning tailgating at the stadium, fans congregated blocks away to begin pre-game festivities. For my father and myself, those activities were attending the NFL Experience and sitting in the stadium seven hours before game time.
The NFL Experience is what we thought it was. Having gone last year, we knew what to expect.
Seated in Section 306, we soon realized the Cardinals' organization was smart and sold all the seats in the section to long-time season ticket-holders. Yet the lure of a quick profit was too much for some, peppering in a few Steelers' fans throughout our Birds' Nest.
Pre-game was like a homecoming game for my father. He caught up with individuals he'd known for years, with the only connection being neighboring seats at Sun Devil Stadium in Tempe for more than a decade of Cardinals' games.
The game itself was a microcosm of Arizona's season: a lot of hype before, a roller-coaster ride throughout and a sense the team could've won had they done one thing better or had one less mistake.
I won't go into the controversy surrounding the officiating. Whenever a flag was thrown, there were no replays on the big screens at the stadium. So, we didn't see how bad it was until we got home and watched highlights, though we had an idea while the game was transpiring.
I learned a valuable lesson about the long post-game trophy presentations: they exist to allow the winning team's fans to celebrate while the losing team's fans can exit the stadium. This was key after Sunday's game because the Steelers' fans were being obnoxious before the game, and I didn't want to see what actually winning had done to their sense of entitlement.
I'm going to stick with the sentence my shell-shocked father repeated throughout the night following the game: "At least we got this far."
And like my dad every year, I'll pencil in enough wins for the Cardinals to make the playoffs next year. How can they not take the NFC West again?
I'm already looking at airline and hotel prices for Miami.