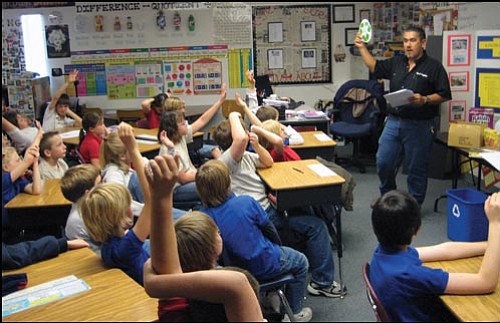 Originally Published: February 6, 2009 6 a.m.
KINGMAN - Recycle. Reduce. Reuse.
Fourth-grade students at Kingman Academy of Learning Intermediate showcased their knowledge of those three words Wednesday during a presentation from the city of Kingman Sanitation Division.
The division is still establishing the educational outreach for the Kingman EZ Recycling program. Even so, they decided to fulfill the request of the school to make a presentation as part of the class lesson plan, Sanitation Division Supervisor Ed Tapia said.
"We thought it was a great opportunity for us," Tapia said.
Within the next two months, the division will begin monthly educational outreaches to schools in Kingman. The outreach would primarily be a grade-level-appropriate presentation.
Students in Judy Perrine and Kim Snelling's classes listened to a presentation and viewed displays made by the sanitation division. Tapia and equipment operator Phillip Lemelin also brought students crayons, pencils, activity books, coloring books, rubber bands and calendars promoting recycling.
"We've been learning about recycling," Perrine said. "We're really excited that they're here."
Tapia alerted students to the more than 9,700 customers the city has and the more than 46 million pounds of trash produced in Kingman during 2008. By utilizing the statistics, Tapia said he hoped to encourage the students and their families to recycle more.
"The best way to start is to make a difference at home," Tapia said.
The students gave their own reasons for why they thought recycling was important, from saving trees to stopping global warming to reduced consumption.
In the current recession, recycling has economic benefits as well, he said. While a landfill employs an average of six people, by adding a recycling program, the number of jobs jumps to 36.
In Kingman, the sanitation division utilizes two employees to sort recycling trash before it is sent on for further processing.
While the city doesn't provide residences with individual recycling bins, there are drop-off recycling trailers at Centennial, Cecil Davis and South Side parks. At the start, the bins only needed to be emptied once a week.
"Now we're doing it twice a week, and we are on the verge of three times a week," Tapia said.